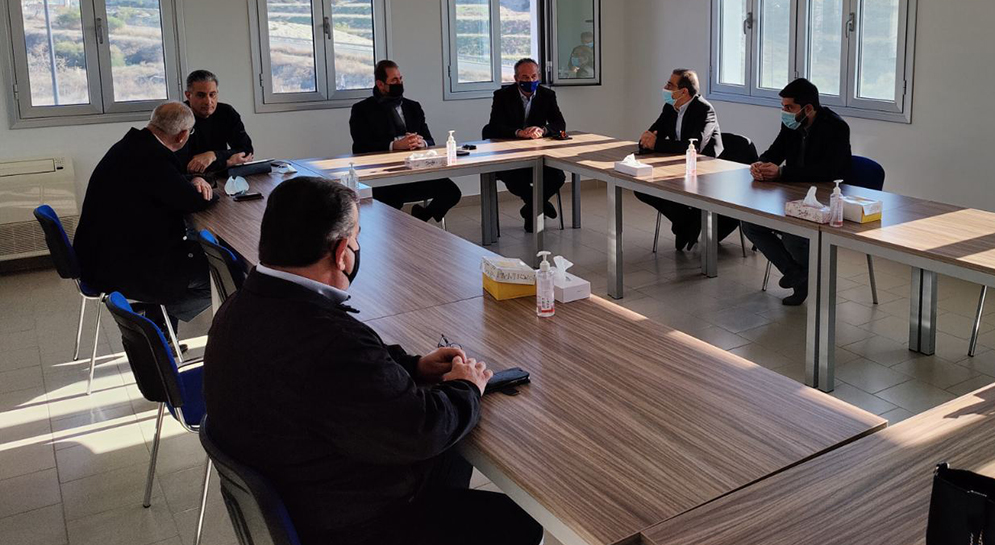 AKEL visit to the Limassol Integrated Waste Management Facility
22 December 2021, AKEL C.C. Press Office, Nicosia
A delegation of AKEL, headed by AKEL Parliamentary Representative Giorgos Loukaides, today paid a visit to the Integrated Waste Management Facility (IWMF) Unit in Pentakomo, with the aim of giving a briefing about the problems arising from the operation of the plant. The delegation also included AKEL Limassol District Secretary, Giorgos T. Georgiou, as well as AKEL MP's Andros Kafkalias and Kostas Kosta.
During the discussion with the Unit's management, the inability of the Limassol IWMF contractor to operate the plant at Pentakomo under the Unit's operating contract was reaffirmed. More specifically, the product produced from the treatment of SRF/RDF waste does not meet the minimum specifications for secondary fuel, resulting in a large part of the quantities from the treatment of this waste being buried or stored in Pentakomo in violation of both the contract and the relevant European Legislative Framework. Consequently, the objectives set for the energy recovery of secondary fuel for the production of electricity are not being met. Also discussed were the problems noted with the road network leading to the Limassol waste incinerator, which is in a tragic state, as well as the long delay in the repair of the bulky waste shredder.
The Chairman of the Limassol Waste Management Council and the Mayor of Mesa Gitonia Municipality, Doros Antoniou, reiterated that the Council will not take over the project, as planned, unless these problems are resolved, which do not permit the Unit to serve the purpose for which it was created.
AKEL, on its part, pointed out that the failure to implement the comprehensive strategic plan for waste management that was elaborated by the previous government leads with mathematical certainty to actions of the past such as the burial of solid waste. This is a practice which is illegal and environmentally harmful and for which an infringement procedure has been initiated against the Republic of Cyprus by the European Commission.
It is clear that the Government, even belatedly, must assume its responsibilities and proceed to the creation of modern units, with comprehensive systems for the sorting, but also utilisation of organic material for energy production. These units must will serve the needs of the people, who are paying the price for the government's indifference.
AKEL will take the initiative to arrange a meeting with the competent Minister and the management of the Unit in the immediate future to seek solutions to these problems.