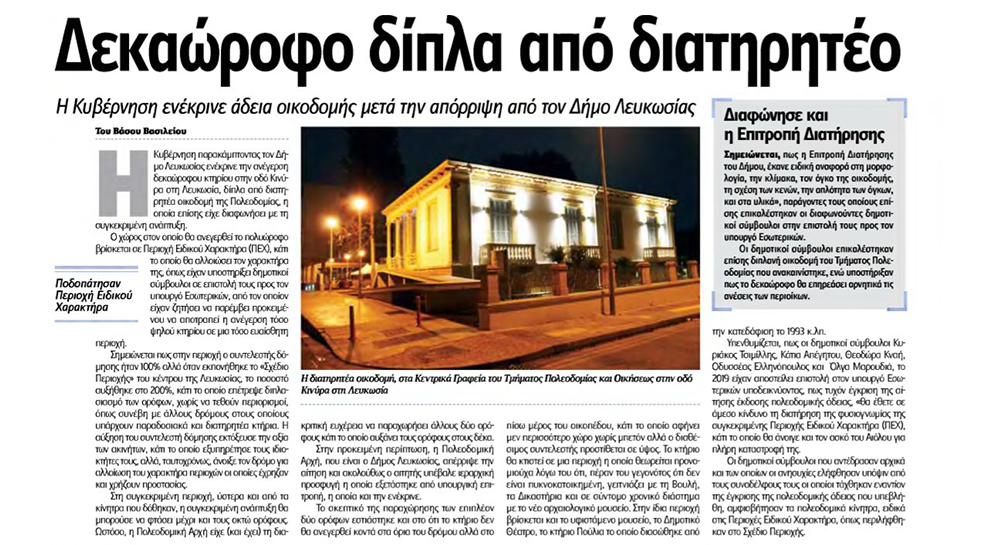 Questions raised in relation to the construction of a ten-story building in Nicosia
21 December 2021, AKEL C.C. Press Office, Nicosia
Recent press reports refer to the fact that the government has bypassed the opinions of all experts and approved the construction of a ten-story building on Kinyra Street, Nicosia, next to a listed building of the Town Planning Department. This once again confirms everything we have been accusing the government of. It does not care about the interests of citizens, the environment or the quality of life of our country's inhabitants. Its only concern is to serve a small group of friends and acquaintances and help them maximise their profits.
More specifically, the Department of Urban Planning, the Municipality of Nicosia, the Preservation Commission, the Department of Antiquities and the National Trust of Nicosia all expressed their negative opinion on the construction of a ten-story building. However, the government overruled all the above opinions and proceeded to issue a permit.
The government's daily proclamations go by the wayside when it comes to serving the interests of friends, acquaintances and relatives.
The government would do well to explain the reasons that led it to take this decision. And the Minister of the Interior, who was passionately pushing for the approval of the company's application, is well advised to document what facts he took into account to ignore everyone and favour the application for the 10-storey building. Finally, it would also be useful if he could explain what his relationship – if any – is with the businessman who will construct the building.