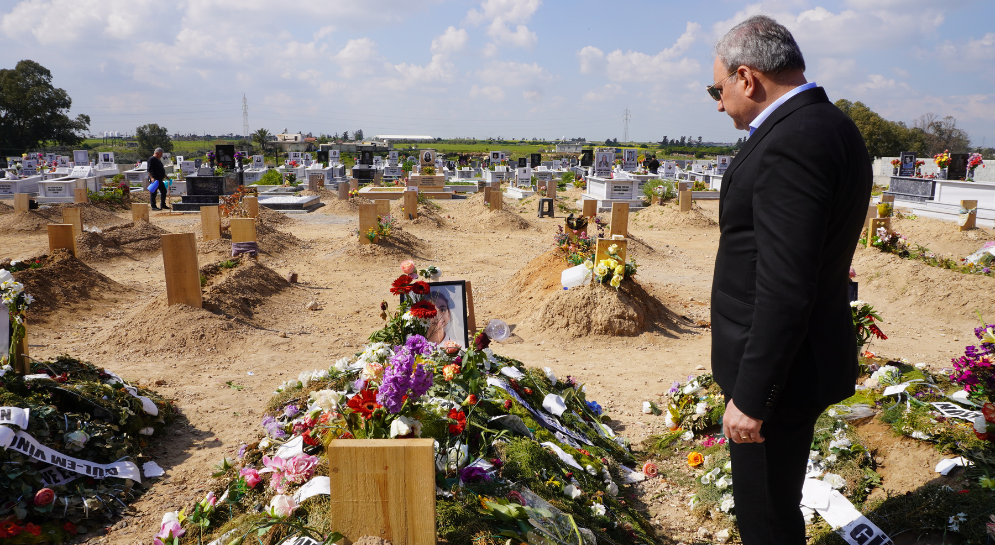 AKEL stands by the families of the victims of the deadly earthquakes in Turkey
The Secretary General of the Central Committee of AKEL, Stefanos Stefanou, at the head of a large AKEL delegation, visited today the cemetery in occupied Famagusta where most of the Turkish Cypriot victims of the deadly earthquake in Turkey were laid to rest. St. Stefanou laid flowers at the graves, talked with relatives of the victims and expressed the Party's condolences for the unjust loss of the deceased. The AKEL delegation visited, in occupied Famagusta, families of children who lost their lives.
The Party's delegation also included AKEL's Famagusta District Secretary, Chrysanthos Zannettos, AKEL's press spokesman and Famagusta MP George Koukoumas, POGO General Secretary Skevi Koukouma, Head of the AKEL Rapprochement Bureau Elias Demetriou, member of the AKEL Rapprochement Bureau Andri Demetriou and other members of the Popular Movement.