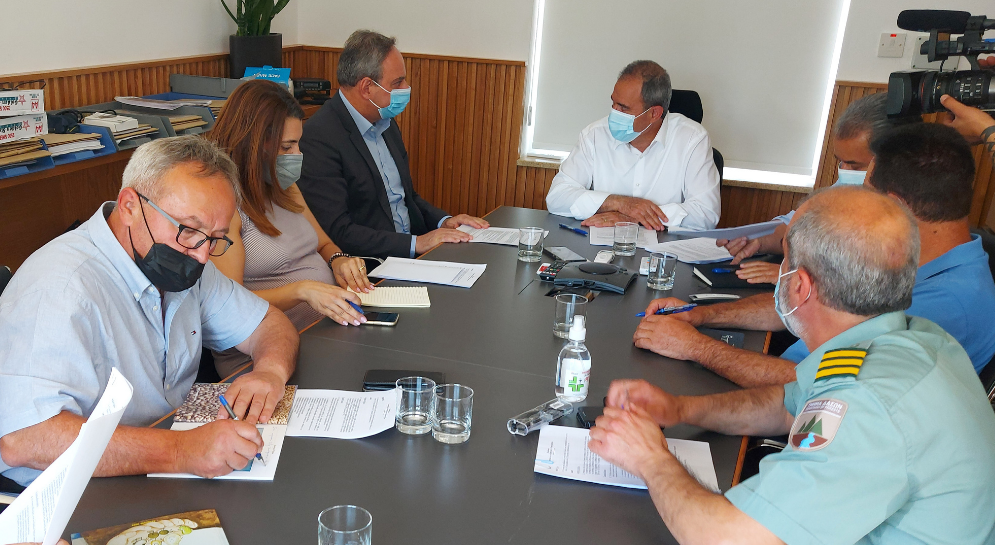 Statements by the General Secretary of AKEL S.Stefanou after the meeting with the Forestry Department
20 May 2022, AKEL C.C. Press Office, Nicosia
We didn't ask to visit the Forestry Department by chance
Firstly, we wanted to express our recognition and appreciation for the excellent and very important work the Forestry Department is doing to preserve, develop and protect a precious national asset Cyprus has: our forests and wooded areas.
Secondly, the timing of our visit isn't accidental. We are entering the summer season. High temperatures are the first major risk to our forests.
Thirdly, we have forged a long-standing cooperation with the Forestry Department. AKEL has always been on its side, a helper and supporter of the very important work it has been carrying out. Furthermore, we always seek to be aware of the problems and needs that exist for the Forestry Department's further development.
When we talk about the Forestry Department, we are essentially talking about the oldest state institution in Cyprus – given that it was established in 1879. The Forestry Department has numerous needs. It is understaffed and must be adequately staffed and equipped with new and more technical means. It needs to be strengthened further so that it will be able to fulfill the important tasks it has and to be in a position to meet the significant needs that exist.
We must always be on alert and forward-thinking. It shouldn't be the case that every time a fire breaks out, after we deal with the damage, the state and the Forestry Department rush to the House of Representatives to discuss what they should and should not have had at their disposal. The Forestry Department must always be adequately staffed and equipped.
As much as AKEL can, we will try both inside and outside the House of Representatives to promote the Department's demands and will certainly be supportive of the important work that the Forestry Department is doing.
One issue that we have discussed and is very timely is the issue of the Forestry College which for a number of years now has not actually been training new forestry officers. AKEL's position is well known and is longstanding. We not only need a functioning Forestry College, but we also need to upgrade it. Relevant decisions were approved by the previous government which unfortunately were not implemented. However whatever the case may be, it is an issue that we need to focus our attention on very carefully. There have been some developments and we believe that these developments must proceed, so that with the help of a public educational institution we can once again have a Forestry College which, both on a scientific, but also on a technical level, can contribute towards the adequate staffing of the important work the Forestry Department is doing.
Congratulations dear Haralambos for the work that is being done. As I have said, AKEL is always at your side for whatever you may need.