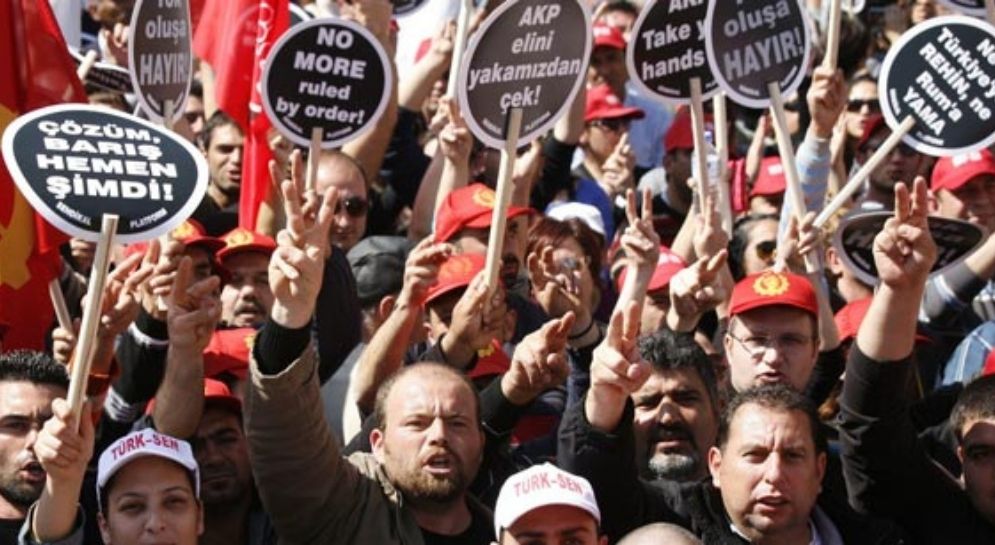 Solidarity with the Turkish Cypriot's mobilisations for their communal existence
Statement by Elias Demetriou, Head of the Rapprochement Bureau of the Central Committee of AKEL
24th June 2021, AKEL C.C. Press Office, Nicosia
AKEL expresses its full support and solidarity with the mobilisations of numerous progressive organisations in the Turkish Cypriot community regarding the issues that are threatening their very communal existence as a result of the policies Turkey is imposing.
The recent revelation by the Turkish Cypriot newspaper "Yeni Bakis" about the plans for the granting of an additional 50,000 "citizenships" to settlers in the occupied territories has justifiably provoked the reaction and anger of a large section of Turkish Cypriots. The anger was further intensified by the attempt to silence three journalists of the newspaper who had exposed the issue and who were accused of supposedly publishing personal details.
The continuous mass issuing of "citizenships", the systematic persecution of voices that resist and the attempt to alter the secular character of the Turkish Cypriot community are basic political objectives aimed at ensuring the multifaceted assimilation of the Turkish Cypriots by Turkey. At the same time, Ersin Tatar, as a genuine pawn of Turkey, is not only endorsing these policies, but is promoting new fait accompli on the Cyprus problem and adhering to the anachronistic doctrine of a two state solution.
AKEL denounces Turkey's ruling policies that are threatening the very existence of the Turkish Cypriot community. We particularly express our solidarity with those Turkish Cypriots who are being targeted and persecuted for their views.
At the same time, we call on Turkey and the Turkish Cypriot leadership to stop the implementation of any new fait accompli on the ground and to engage in a sincere dialogue on the Cyprus problem on the basis of the relevant Resolutions of the United Nations. The Greek Cypriot side must also take initiatives in this direction so that pressure is put on Turkey and the Turkish Cypriot side to either return to the dialogue on the basis of the long-standing agreements between the two sides, or to render them solely responsible for the ongoing unacceptable status quo.