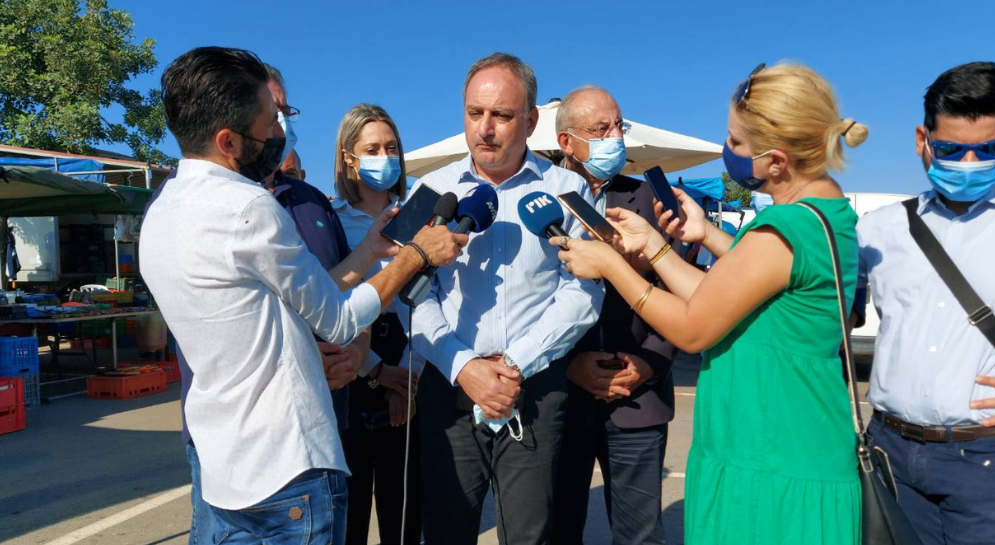 AKEL's proposals for tackling price hikes
Statements by General Secretary of AKEL Stefanos Stefanou during his visit to the Polemidia People's Market
20 October 2021, AKEL C.C. Press Office, Nicosia
AKEL is continuing its contacts with society and ordinary citizens. Today, we are on an all-day tour in Limassol and could not help but also pass by the People's Market in Polemidia to see both producers and the people.
It is clear that everyone is concerned about the wave of price hikes and high cost of living that exist, for many different reasons, both due to external and domestic reasons. One grave concern and anxiety is that this wave of increases in the price of essential goods and products is that it is not transient, but it looks like it is going to increase. Many households are seeing their family budget evaporate at the beginning of the month and are wondering how they are going to make it through the month.
We are concerned and are mobilizing with the people.
The ones who don't seem to be worried are the government ruling forces. Whenever we raise the issue of price hikes, either the Finance Minister, or the government, or the ruling DISY party of which the government is a part of, is quick to reassure the people, failing to admit that there are price hikes and a high cost of living. Moreover, they aren't able to understand the problems, worries, concerns and anxieties of ordinary people.
Therefore, first and foremost, we call on the DISY government to come down to the people and experience the real problems people face; to get out of their barren offices and fat salaries they get and come and see what people are really worried, anxious and stressed about and how they are going to make ends meet.
Secondly, it is the government's responsibility to see how this wave of insecurity is addressed in a concrete way, which, as I have said previously, is not something transient. The government's job should be that specific decisions are approved to provide relief to the people. If it is something to do with banks, they rush on the same day to send bills to the House which they want us to approve promptly. When you tell them about price hikes and that they have to support people, they admit that price hikes and a high cost of living do exist.
We, as the opposition, had already made a specific intervention on the price of electricity, which yielded results.
After reflection by the Party's economic team, today I can submit a second specific proposal that we are addressing to the government, which is also a recommendation put forth by the European Commission. We urge the government to adopt and promote it immediately for the benefit of both society and businesses.
This concerns the reduction of VAT on electricity – it is currently at 19% and we are proposing that it should go down to 9%. As I have said, it is also the Commission's recommendation that tax rates should be reduced during this difficult period the whole world, Europe and Cyprus are going through. By doing so, we will help to relieve businesses and the government must proceed to do that.
At the same time, I should point out – and this is the second proposal from AKEL – it is well known that Cyprus is paying many, many millions for pollutants because the government didn't do what it should have done early on for the advent of natural gas for power generation purposes and to increase Renewable Energy Sources in the energy mix, with the result that we are paying a heavy price for electricity.
The state has revenues from the pollutants and normally these revenues should have used by the government both to promote the green economy and to see what it will do about reducing pollutants. We don't know what the government did, if it did anything, but undoubtedly during this difficult period – and this is a recommendation from the European Commission – the government must in a targeted way, allocate and use the revenues it receives from pollutants in a way that will assist households and businesses to cope with this difficult period that we are going through. Unfortunately, it looks like this period is going to be for quite some time.