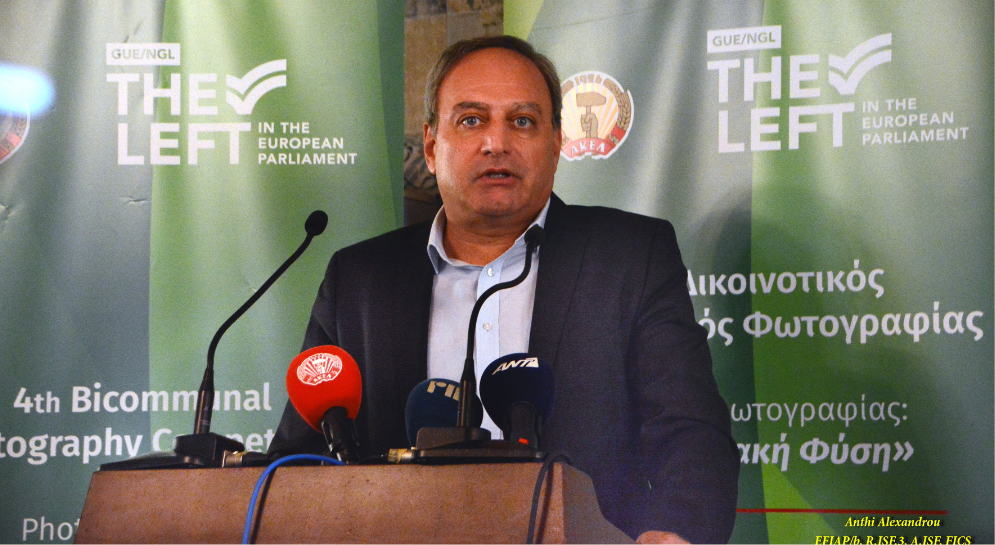 Address of the General Secretary of the C.C. of AKEL Stefanos Stefanou at the opening of the 4th Bicommunal Photography Competition Exhibition
Chateau Status, Nicosia, 17 December 2022, Nicosia
Dear friends,
Compatriots, Greek Cypriots and Turkish Cypriots,
Welcome once again to the Bi-communal Photography Competition organised by AKEL. This is the 4th such Competition in a row and this in itself demonstrates that it has indeed become a custom.
The theme of this year's Competition is "Cypriot nature". We highlight it through the hundreds of photographs sent for our competition by many of our compatriots. Photos depicting the Cypriot environment of the four seasons, the mountains and the sea, the unique flora and fauna of our country. Photos depicting Cyprus' natural beauty that stretches from Akamas to Karpasia and from Troodos to the Pentadaktylos mountain range.
They depict the unique ecosystem of our homeland, which is threatened by ongoing anarchic development and construction – even in protected areas. Our magnificent forests are threatened by fires, the number of which is increasing both because of climate change and the lack of a comprehensive forest policy. Animals are being threatened by the lack of structures in which they can be protected and thrive. Biodiversity whose symbiotic relationship with the ecosystem is also under threat. The air whose quality is deteriorating due to constant pollution.
But our environment is also threatened by another key factor. By the partitionist status quo and practical impossibility of seeing Cyprus as a single ecosystem, beyond the barbed wire fences that divide it. An inability that arises sometimes because of the practical difficulties of the current situation and sometimes because in some people's minds the walls of partition have been well established for a long time.
However, no matter how many barbed wire fences some people erect on the ground and in people's minds, life goes on for the Cypriot ecosystem. Butterflies will continue to fly on both sides of the line of division. Green turtles will be stationed one summer in Akamas and the next in Morphou Bay. Thistles and poppies will bloom in the abandoned houses of the UN-administered buffer zone.
AKEL has a progressive vision both for the future of the environment and for Cyprus in general. First of all we consider people as part of the ecosystem and not their master. We view the ecosystem as a single geographical space regardless of the checkpoints that people erect. We take the lead in protecting the environment by promoting specific positions and proposals.
We do not distinguish people by ethnic origin, language and religion. We approach them as a single entity and children of their common homeland. We see Cyprus as one homeland, a common gain of Greek Cypriots and Turkish Cypriots. We are struggling to fulfill this vision.
We are fighting for a future where all Cypriots will feel and be free in our country, without dividing lines, without checkpoints, military signs and barbed wire. There is only one way to achieve this. Namely, to solve the Cyprus problem. We must continue to struggle for it. And we will continue our struggle no matter the difficulties. We will never compromise with partition. Never!
Dear friends,
I would like to congratulate all the participants in this year's Competition. It is important for us that more and more people are embracing this bicommunal photo contest. This is not so much because there are many lovers of the art of photography – after all, there are many photography competitions in Cyprus – but because many people embrace every event, every initiative that brings the two communities of Cyprus together. Every initiative that expresses the desire of Cypriots to live in a free country for all. In a common state, which Greek Cypriots and Turkish Cypriots will co-manage within the framework of political equality. Respecting each other, helping each other to drive our country forward.
I congratulate the winners of the Competition. I congratulate the jury committee, as well as the organizing committee of the Competition for making it happen. Congratulations to the Rapprochement Bureau of AKEL and the European Parliament Bureau of the C.C. of AKEL for taking the initiative to organise the Competition.
Finally, I would also like to express my thanks to our MEP's Giorgos Georgiou and Niyazi Kizilyurek for their contribution, as well as for their overall activity, which is indeed noteworthy and commendable.