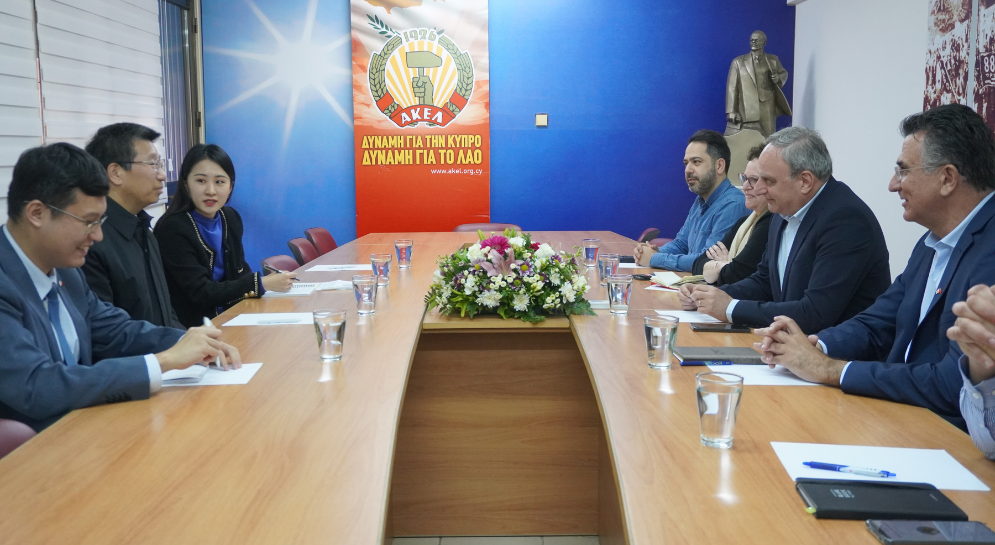 The General Secretary of the Central Committee of AKEL met with the Ambassador of the People's Republic of China
16 March 2023, AKEL C.C. Press Office, Nicosia
The General Secretary of the Central Committee of AKEL Stefanos Stefanou had a meeting yesterday with the Ambassador of the People's Republic of China in Cyprus, Liu Yantao, who was accompanied by leading members of the Embassy. Stefanos Stefanou was accompanied by Nikos Ioannou, member of the Political Bureau, Vera Polycarpou, Head of the International Relations and European Policy of AKEL, Marios Panagi and Haris Pashias, members of the Central Committee of AKEL.
During the meeting, both sides briefed each other about recent developments in the two countries and exchanged views on international issues of common interest. It was particularly stressed that the goal must be peaceful cooperation so that the peoples can look forward to development and prosperity.
Stefanos Stefanou thanked the Ambassador of the PRC Liu Yantao for the consistent principled position of the PRC on the Cyprus problem, as well as for the role played by the PRC as a permanent member of the Security Council of the United Nations.
A mutual will was expressed for the continued development of Cyprus-China inter-state relations and exchanges in all fields, as well as in the relations between AKEL and the Communist Party of China.
The two delegations subsequently attended the online international dialogue meeting of the Communist Party of China with Political Parties.