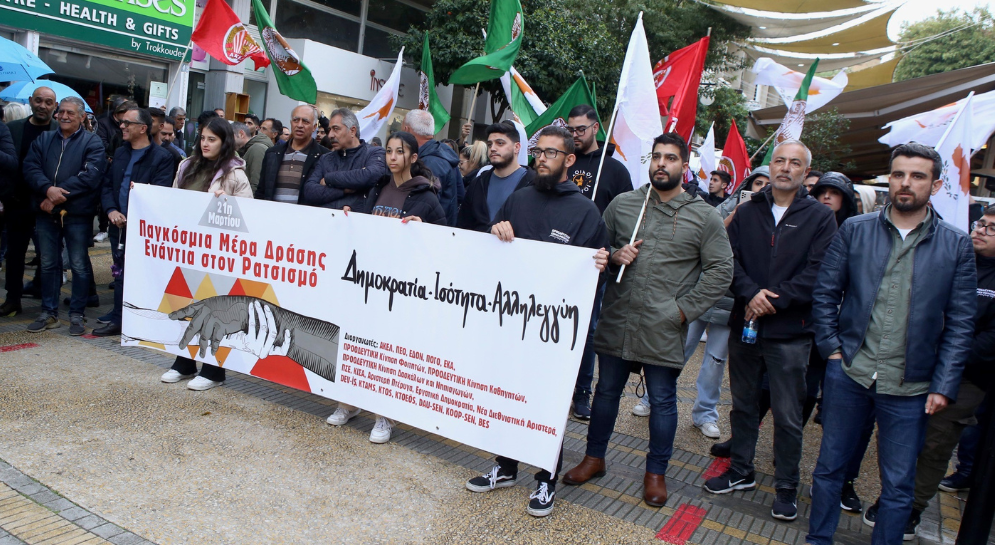 Speech by the General Secretary of the C.C. of AKEL Stefanos Stefanou at the Anti-Racist Anti-fascist Event on the occasion of 21 March International Day of Action Against Racism
18 March 2023, Ledra Street, Nicosia
We at least cannot but participate in such anti-racist actions and in solidarity with refugees without remembering our own refugee history. Without remembering that our own parents, grandparents, uncles and aunties, neighbors, the people of this land were running to save their lives. Barefoot, in the clothes they were wearing, panicking, fleeing with their babies in their arms.
We cannot but discuss the refugee issue without many traumatic pictures and images dripping with blood coming to mind.
We cannot but do so because we are on that side of history that did not run and hide in the mountains of Troodos when the 1974 war happened. Who did not have the luxury of leaving days before, fleeing otherwise and leaving elsewhere. We are the side of history that slept in open fields, in empty schools and refugee tents. Who were handed military blankets, corned beef and a makeshift canvas mattress. Who was left with dozens of other people to live in a two-by-three room. Who said goodbye to parents, uncles and siblings to immigrate abroad to foreign countries, not knowing if and when we would see them again, not knowing what and who they would meet.
We are the side of history that when we enter the Pournara reception centre for asylum seekers, when we see women and children queuing at borders, waiting for a train, a bus, holding photographs in their hands, crying because there is no longer a reason to wait, because they no longer have any hope, running from death, we remember that summer of July 1974 in our homeland.
It is then that we confront our conscience. We too were refugees. We too became immigrants. That is precisely why our solidarity with every persecuted person, every human being – victim of traffickers, victim of imperialist conflicts, victim of poverty and misery – is given.
That is why our conscience cannot tolerate images in the reception centres of children sleeping on the floor, of people barefoot in the freezing cold of winter, of people, men, women and children living in the sewage.
The Anastasiades Government has failed to handle the migration issue. The numbers speak for themselves. It inherited about 1,000 pending asylum applications and has now handed over [to the new government] more than
33,000. Instead of elaborating a comprehensive migration policy, it chose to copy failed policies by installing barbed wire in the buffer zone.
The Christodoulides Government must reshape migration policy, ensuring humane reception conditions and refraining from practices that violate European and international law. It must use the millions of euros allocated to the Republic of Cyprus to implement a transparent, fair and effective refugee and migration policy so as to directly protect those who need protection, to decisively confront traffickers and combat migrant exploitation gangs, to tackle the abuse of the asylum system and combat the exploitation of foreign workers.
As a responsible force, AKEL is ready to contribute towards this end with specific proposals concerning:
The effective management of refugee flows, including the strengthening of the Asylum Service and streamlining of procedures, with respect to the inalienable right to asylum and human rights, as well as the international and European obligations of the Republic of Cyprus.
The scrutiny, transparency and proper use of European funds allocated to the Republic of Cyprus in the areas of migration, asylum and integration.
The adoption and implementation of a National Plan for the Integration of Migrants and Refugees into society, for the protection and support of unaccompanied children, women and other vulnerable groups in particular.
We also reiterate our demand to the Government for the withdrawal of the New Strategy for the Employment of Foreign Workers. This is a Strategy full of problematic points and provisions that pave the way for the further exploitation of foreign workers, but that also exerts further pressure on the rights of Cypriot workers. The new Labour Minister must withdraw it and brig back the issue for consultation.
21 March has been designated as a day of mobilisation against racism and xenophobia. For us, every day is a daily struggle against racism, xenophobia and fascism. At a time when inhumane ideological concepts are being revived, exploiting the crisis, poverty and despair of society, the forces of progress and democracy are projecting an alternative path. They raise the flag of ideals that give meaning to human life: democracy, equality, solidarity.
AKEL has been and remains at the forefront of this struggle, for the right of every human being to life and dignity, for an open, inclusive society that protects, respects and defends human rights.