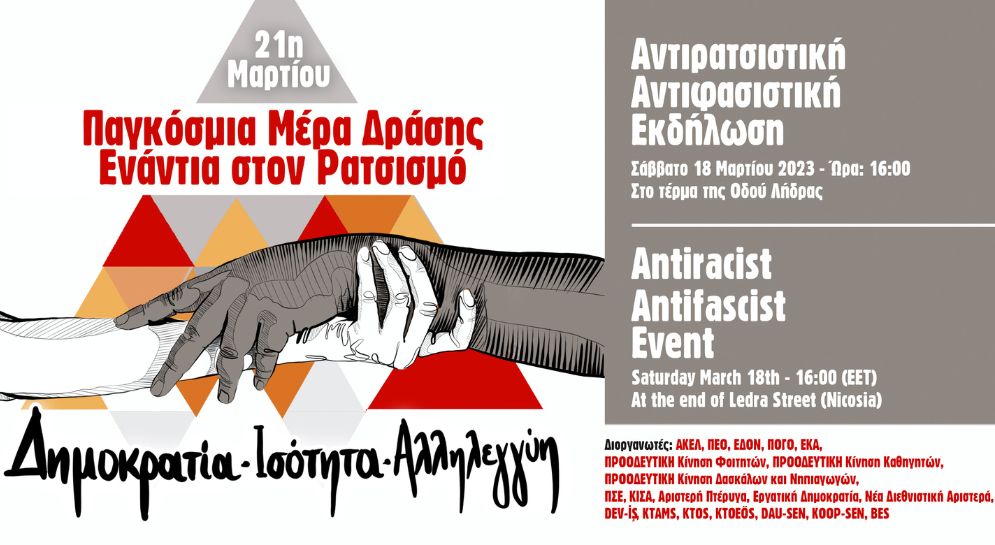 AKEL supports Anti-racist Anti-fascist Event
17 March 2023, AKEL C.C. Press Office, Nicosia
On the occasion of 21 March, International Day of Action Against Racism and Fascism, an anti-racist and anti-fascist event is being organized under the slogan: "Democracy – Equality – Solidarity", tomorrow Saturday, 18March 2023 at 16:00 p.m. at the end of Ledra Street.
The event is co-organised by AKEL, PEO, EDON, EKA, POGO, CPC, KISA, NEDA, Cyprus Stop Trafficking, Socialist Initiative, Workers' Democracy, Left Wing, the PROGRESSIVE Students' Movement, the PROGRESSIVE Secondary School Teachers' Movement, the PROGRESSIVE Primary School and Kindergarten Teachers' Movement and the Turkish Cypriot trade union organisations DEV-İŞ, KTAMS, KTOS, KTOEÖS, DAU-SEN, KOOP-SEN and BES.
AKEL addresses a call for participation in the event to send out a strong message against racism and xenophobia, for a society based on Equality, Democracy and Solidarity.
The event will be addressed by the General Secretary of the Central Committee of AKEL, St. Stefanou, the President of DEV-IS Koral Asiam, while the event will also be addressed by Meropi Tsimilli on behalf of the Left Wing and Nicolas Tryfon on behalf of ACCEPT-LGBTI Cyprus.