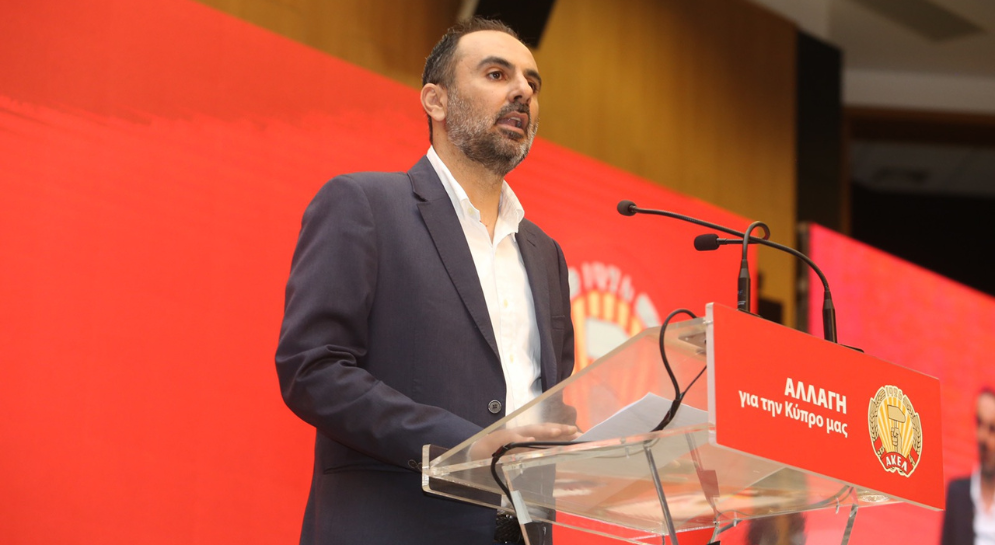 Opening of proceedings by the Central Organisational Secretary Haris Karamanos at the AKEL Pancyprian Conference on the 2023 Presidential Elections
5 June 2022, AKEL C.C. Press Office, Nicosia
Welcome to the Pancyprian Conference of AKEL. Our Conference is convening to discuss the Central Committee's proposal for the candidate AKEL will support in the upcoming 2023 Presidential Elections.
February 2023 will be the month that, in one way or another, will determine the course of Cyprus and the Cypriot people. The future of our country literally hangs by a thread. Who is at the helm will determine the future of our country, people and children.
We need to reflect on how much this country has been through and to understand what has happened in recent years.
The Anastasiades-DISY party government deliberately chose to shift the burden of the economic crisis on to the backs of the working people.
It proceeded to sell off state and public wealth/property at will with an unprecedented arrogance.
It has pursued measures and policies that made the rich richer and impoverished the people.
It made cronyism and non-meritocracy a normality, clientelism a daily practice.
It disgraced Cyprus internationally, giving Cypriot passports to every crook, so that they and their chosen ones could get rich.
It drove the Cyprus problem into a quagmire, with partition knocking on our door.
It is therefore a common realisation, not just of the people of the Left, but also of the overwhelming majority of society, that this state of affairs can't go on any longer, enough is enough. They have to go.
This is precisely what is at stake at the upcoming presidential elections. To block the way to the most conservative, reactionary, anti-social and corrupt government that Cyprus has ever known. To pave the way for the great progressive Change.
Not many can do what is happening here today at our Conference. AKEL has once again proved its strength. Because faith in democratic processes, trust in the Party membership, the will to hear EVERY viewpoint, to discuss EVERY viewpoint, EVERY suggestion and to take decisions, demonstrates strength. It also shows a strength that is genuine, solid and motivating.
Congratulations are due to all the Party members, New Forces and Friends of the Party who participated freely and democratically in this inter-party dialogue. While other forces/parties are applauding the one who decided to impose himself on his party, the members and militants of AKEL are discussing, voting, deciding and moving forward. That is exactly what we are proud of: for the fermentation underway, not any closed procedures. For the political culture cultivated through this dialogue.
We are proud of what is inherent in AKEL's DNA: collectivity in decisions, collectivity in the work to implement the decisions approved.
Today's Conference will end with a decision. It is the end and the starting point of a path of struggle. If there is one thing everyone agreed on all through this long dialogue inside the Party, it is that there is no other option before us, the only way forward is Change. It is the task of ridding our country of the Anastasiades-DISY government. Even their own voters, their own people are now openly declaring that they can't take it anymore. I am sure that we have all in this Conference Hall heard this being said hundreds of times.
Now, all together, in unity, with optimism, strength and confidence, let's finally turn the page.
Now, all together let's march forward and work hard to bring Change. For all those outside waiting for us to solve problems, to begin the path of change, for better days to finally dawn for our Cyprus.
So, all together, from tomorrow, let's do what only AKEL can do. Namely, to prove that nothing is impossible.
We want, we can and we will win this battle. That is precisely what they fear.
Not a single moment should be wasted, not a single conscience should be spared. With the heavy sense of responsibility that AKEL militants and members have towards our country and people, let us emerge from this Conference more united, more determined, more ready than ever for Change, for Victory in the elections.
Good struggles comrades. Every strength to you all.
From today we turn hope into a powerful force for CHANGE.