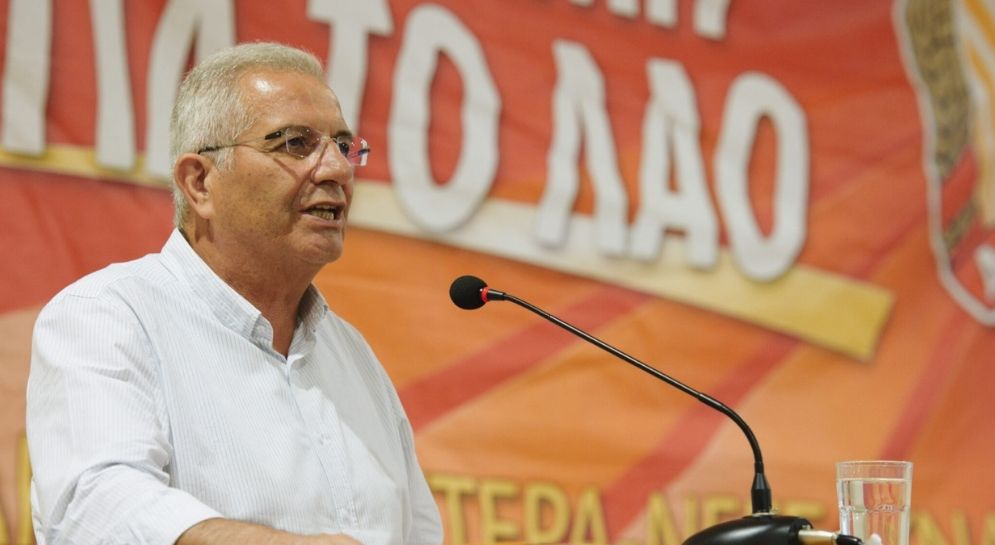 Interview with the General Secretary of AKEL A.Kyprianou "At AKEL we discuss how we got to this very negative result"
6TH June 2021, weekly Greek newspaper "Epohi"
E: Does the drop in percentages and votes of the two major parties express some incidental dissatisfaction?
AK: All four traditional parties recorded a drop in their percentages and votes: ruling DISY, AKEL, DIKO and EDEK. It is definitely a sign of dissatisfaction on the part of voters, for different reasons for each party. At AKEL we have begun a discussion process on why we had this very negative result, which will reach a climax in the Congress.
E: The pro-presidential camp, I have the feeling, have emerged slightly strengthened. Can this situation change by the presidential elections?
AK: I wouldn't say the pro-government pole has been slightly strengthened, in the sense that Mr. Anastasiades should not take ultra-right ELAM, nor the 'Democratic Faction' party, for granted. These parties have said so themselves, repeatedly. For sure, they have so far backed Mr. Anastasiades on crucial and important issues. Whether these parties will be together in the next elections will also depend on who the DISY candidate will be.
E: The pro-presidential camp was careful in its criticism of far-right ELAM all through the previous period. Some of us thought it was doing this so it could rely on reserve forces for the next presidential elections. Is that so?
AK: You have made a very correct evaluation. This is precisely what it will seek to do. Besides, it is ELAM that secured DISY the victory in the previous presidential elections. However, I consider that the stand of ELAM will also depend on who the DISY candidate will be. Our goal is to see how we can manage to forge the broadest possible electoral cooperation, beginning with social movements and moving to political parties.
E: Do you consider that the big abstention hurt AKEL more?
AK: It seems that, unfortunately, AKEL had a higher abstention rate than the average. I think that the fact that we had 38 candidates in other ballots, from the so-called left spectrum, from families who traditionally voted for AKEL, did cause great damage to us. Cypriot society has become very apolitical.
E: Why is that so?
AK: A non-political approach and position is being cultivated. Thus, the criterion of a vote is based on the logic of whether "he/she is a good person". As a result, positions do not matter.
E: 50% are in favor of federation for the solution of the Cyprus problem. This should have favored AKEL, which is the most consistent party on this issue. Did AKEL perhaps prioritize corruption more than it should have, a serious problem of course, and in doing so maybe underestimating the Cyprus problem?
AK: I believe we highlighted it. Regarding the Cyprus problem, I think what influenced some voters not to vote for us is the concern that there might be a collaboration with DIKO, which would disorient us from finding a solution to the Cyprus problem. I think such a possibility causes unpleasant associations.
E: Did the result of the Turkish Cypriot elections affect you?
AK: I don't think so. It influenced to the extent that it affects the consciences of Greek Cypriots, in terms of the prospect of a solution.
E: How will the results affect further discussions in relation to the Cyprus problem?
AK: I think they do represent a setback. It is, of course, this President who negotiates the Cyprus problem, but what matters is the strength of the parties that support the effort for a solution. I consider developments will be extremely difficult. Mr. Erdogan said that on 20th July, the day he will come to the occupied territories, on the anniversary of the invasion of the Turkish army, he will proceed to make some significant announcements with regards the Cyprus problem. He also spoke about a 'very hot summer' in Cyprus. I don't know what he means by that, but I do not hide from you that we are worried as AKEL about what he will say and what he will actually do.
E: We have seen the emergence of movements, such as the "Enough!" social movement, in which your party has participated. Could one say that a stronger engagement was needed on the part of AKEL?
AK: We have assessed, for a few years now, that AKEL has lost the contact it should have had with left-wing social movements. This is something we need to step up. I believe that we have lost our pioneering role in society, in the sense that in the neighborhoods, local authorities, social movements and trade unions, the members and cadres of AKEL are no longer the pioneers. They are not at the forefront. Their participation is more limited than in the past. And we need to look at these issues very carefully again. We have to win back our leading role in society again.
E: Does a section of citizens, in your opinion, consider AKEL to be a part of the systemic party system?
AK: There is this perception and we must overcome it. The perception that "we are all the same" has been cultivated and we could not convince of the opposite.
E: How will you now organize your work in this direction, namely in reconnecting with society and movements?
AK: First and foremost we have to look at ourselves, our Party. We have to see how we make the Party more effective. We must open up to society and upgrade our relationship with social movements. At the same time, we must begin to forge the front for the presidential elections. We need to find an independent and mutually acceptable candidacy.
E: In view of the Congress, what initiatives are you thinking of taking?
AK: We are in the process of discussing with our militants, with our Party grassroots organizations, with friends beyond the spectrum of AKEL. We will seek to hear them all. Our view is that we must proceed decisively, with a renewal of our cadre force and procedures. That is, in the way we function. And we must promote new people in the work of the party base and in the party Bodies.
E: Is ELAM a danger?
AK: ELAM is a great danger both politically and on a human level. They represent a misanthropic philosophy. They managed to convince a section of society to support them, by declaring that it is a party that helps people. It only helps Greek Cypriots. It is the opposite of everyone else. It is an extremely nationalist party. It opposes the Turkish Cypriot side and ignores the fact that a large majority of Turkish Cypriots are our allies in the effort for the reunification of Cyprus.
E: The Ecologists did not confirm the dynamics the polls had showed. Is that true;
AK: They did indeed lose percentages, even though they won one seat more. They are leaning towards an understanding and to cooperate with us and I appreciate that.