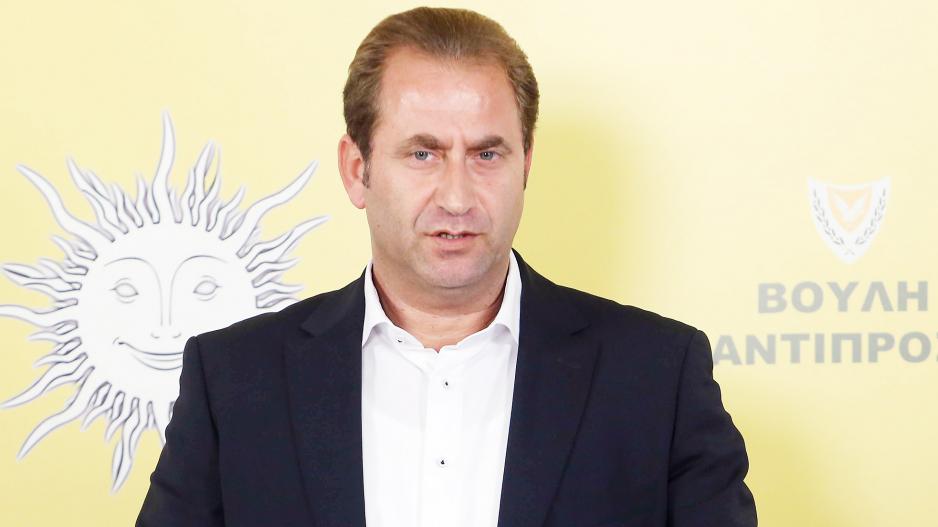 Interview with Giorgos Loukaides, AKEL Political Bureau member and Parliamentary Representative
With the election of Mavroyiannis, Cyprus will turn the page
Sunday 19 June 2022, "Haravgi" newspaper
The people are looking for a calm force, with ethos and a vision for the country
Citizens in 2023 will have to choose between the continuation of a DISY government or progressive change
DISY leader and presidential candidate Averof Neofytou's position in favor of Cyprus' accession to NATO should be viewed as a permanent ideological obsession rather than a 'bold' proposal
—————————————-
QUESTION: What is at stake for AKEL in the 2023 presidential elections?
GL: Citizens in the upcoming 2023 elections will have a choice to make between continuing with Anastasiades' DISY government or progressive change. The spokespersons of the first choice, as they themselves declare, are Averof Neofytou and Nikos Christodoulides. On the other hand, the person leading the effort for progressive change is Andreas Mavroyiannis. We therefore may have three main candidates as of this moment, but in actual fact there are two choices before us.
Those of our fellow citizens who are frustrated or even angry because of the deeds and actions of the Anastasiades-DISY government do have a choice and that choice is none other than the independent – progressive candidacy of Andreas Mavroyiannis.
QUESTION: What new developments will the election of Andreas Mavroyiannis bring to the political life of Cyprus?
GL: The candidacy of Andrea Mavroyiannis, with his personal and political characteristics, guarantees that Cyprus will turn the page and begin a new hopeful perspective. His election will also bring a new ethos to the political life of our country, which we so desperately need.
Furthermore, the election of Andreas Mavroyiannis will signal a consistent struggle far from any adventurous regressions to prevent the permanent partition of our island and the revival of the hope for the liberation and reunification of our country and people, as well as the restoration of institutions and the rule of law that have been undermined over the last decade.
The election of Andreas Mavroyiannis will bring sound administration, meritocracy, accountability and the strengthening of the necessary scrutiny that must exist in a state governed by the rule of law, leaving behind those who and all that has disgraced our country due to the unprecedented phenomena of entanglement/interwoven interests and corruption that characterise the outgoing government.
The election of Andreas Mavroyiannis will mean a socially sensitive, but also an orderly and balanced economic policy that will serve the many and not the privileged few, through a different model of a sustainable – green economy, leaving behind the predatory "get-rich-quick" predatory economic model that has prevailed during the Anastasiades-DISY-Government.
QUESTION: The assertion is being made that Mr. Mavroyiannis is the candidate of AKEL, implying that he is not independent. How do you respond to this allegation?
GL: Those who claim that Mavroyiannis' candidacy is not independent are deluded. It has been proven and well-documented that Andreas Mavroyiannis has never been affiliated to any political party, but he has won the respect of and cooperated with the political forces, having served his country very successfully in important positions over the last decades, under different governments, as evidenced by the results of his own work, but also as acknowledged by those who are now attacking him. All of them must also decide: is Andreas Mavroyiannis an AKEL candidate, or a candidate who has some different views on certain policy issues from AKEL, which they are anxiously trying to promote? Obviously both can't be true.
QUESTION: Some people claim that you could not find a candidate from the left, or that you did not want to nominate a left-wing candidate and ended up opting for a collaborator of Anastasiades, whom you want to get rid of.
GL: This question also answers the previous one, highlighting the contradictory claims made by those who were afraid of the Mavroyiannis candidacy from the very beginning.
AKEL has very capable members, starting with its General Secretary, who fully meet the qualifications of a Presidential candidate. Everyone knows that several persons have expressed an interest in receiving the support of AKEL in these elections. The collective bodies of AKEL, just like the overwhelming majority of its members, have said no to the party's isolation, but have come out in favor of opening up to society through an independent – cross-party candidacy, believing that by doing so we can more easily achieve the rallying of forces with all those forces, circles and people who are frustrated with the present government, regardless of their political affiliation. This is, after all, the tradition we have as AKEL, given that we have done the same in almost all previous presidential elections.
QUESTION: Mr. Mavroyiannis is low-key with a clam discourse. Does this not take away from his dynamic?
GL; On the contrary. That is what we believe people are looking for. A calm force. With ethos and a vision for his country. A man of substance, ability and value, with knowledge and courtesy, a cultured man who can achieve synthesis. Already from his first appearances as a candidate, he is making a positive impression, precisely because of these qualities.
QUESTION: What will be AKEL's role throughout this process?
GL: As the biggest opposition party, AKEL will naturally play a decisive role in these elections. At all levels we will work tirelessly for the progressive change that will come with the election of Andreas Mavroyiannis as President of the Republic of Cyprus. 10 years with DISY in government is too long.
The country and our people cannot afford another DISY government. The Left will fulfill its duty and we are optimistic that we can and will have a victorious result. The train of change has started, with AKEL as the locomotive and Andreas Mavroyiannis as the helmsman. We express the belief that more and more of our fellow citizens will embark on this eight-month journey, irrespective of their political or party affiliations.
QUESTION: Will AKEL also have a say and a role in defining Mr. Mavroyiannis' programme?
GL: Of course, as he himself has declared. We will play our role in this direction, together with other political and social forces and individuals. It will, of course, be a programme of governance drawn up by Andreas Mavroyiannis himself. We do not, therefore, expect to see AKEL's Party Congress positions to be included in the programme of governance. But neither will we see positions that in any way annul or nullify the Party's basic principles and positions. From the announcement made a few days ago and from positions already expressed by Andreas Mavroyiannis, the progressive nature of the programmatic positions he will present are becoming abundantly clear.
QUESTION: An important factor in the whole procedure is the forging of alliances and the expression of support to the candidacy of Andreas Mavroyiannis by various personalities. Will we see such moves in the near future?
GL: First-round alliances with other parties have been and continue to be sought, but, as you can observe, they do not depend solely on us or on the characteristics of the candidate, which in our view make him or her suitable to be the candidate of the opposition parties. With full respect for their internal procedures, we await the decisions they will take.
Other than that, however, many personalities from various political and ideological backgrounds have already expressed their readiness and willingness to express their support towards the candidacy of Andrea Mavroyiannis. And this list will grow in the coming period.
QUESTION: Averof Neophytou presents himself as the man who puts forward bold proposals. For example, his position in favor of Cyprus' accession to NATO. How do you view this proposal?
GL: This position should be viewed as a permanent ideological obsession rather than as a bold proposal. This proposal has been brought back to the fore after a long period of silence and contradictions due to electoral considerations. It is a proposal which once again ignores not only the long-standing criminal actions of NATO all over the world, as well as in Cyprus too, but it also disregards the opposite view held by the vast majority of our people.
We have said on many occasions that, firstly, no protection whatsoever will be offered to Cyprus by its accession to NATO, just as no protection will be offered to Greece by its participation in NATO, against the threats and dangers emanating from Turkey, which NATO considers as important for its interests.
Secondly, Turkey will never accept Cyprus' membership of NATO.
Thirdly, as regards the solution to the Cyprus problem, we refer to the informal document submitted by the Secretary General of the United Nations, which outlines a settlement that fully guarantees stability and security, without the need to transform Cyprus into a NATO protectorate.