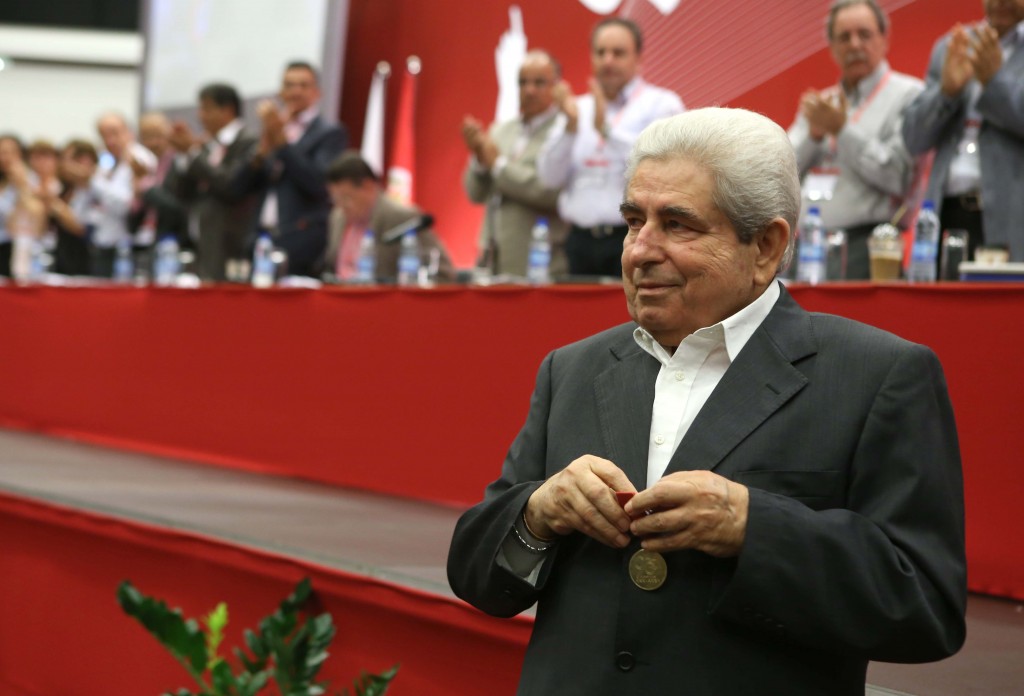 Demetris Christofias: The idealist, internationalist and inspirer
Three years since the historic leader of the Left passed away and his absence is still felt
Sunday 19 June 2022, "Haravgi' newspaper, by Michael Mihail
21 June 2019 was no ordinary day. On that day Cyprus and the Left movement in particular lost one of the pioneering historical leaders of the young generation. It lost Demetris Christofias, the man, the comrade, the inspirer.
General Secretary of the Central Committee of AKEL from April 1988 to January 2009, President of the House of Representatives from June 2001 to February 2008, then President of the Republic until February 2012. Besides the positions in which he found himself assuming, however, Demetris or 'Gristofkias', as he was popularly known, was, by all accounts, the genuine expression of left-wing ideology in the period after the dissolution of the Soviet Union. He was beloved by all, a simple and forthright person, regardless of the political or party posts to which he rose.
As a memorial first and foremost to the Man Demetris Christofias, we spoke to three people who had been by his side for years. We spoke to Vera Polycarpou, Head of the International Relations Bureau of the C.C. of AKEL, Elektra Eleftheriadi, a former cleaner and cook at AKEL central offices, and Christakis Maragos, a member of his security team.
All three, like many others, stressed the human characteristics of D. Christofias. The purity and authenticity of his character.
Vera Polycarpou: His belief in our ideals inspired
It is not easy to talk about the Man Demetris Christofias. Especially for me as he was a very close person to me. I first met him after the 1974 war, in the first school student demonstrations. He was not just a leader, he was an inspirer. As a leader of the youth movement of EDON he was always at the forefront of struggles. And as many years as I was lucky enough to work with Demetri as our General Secretary, he always guided and inspired me and that is very important, especially when you are at a young age, when your character is developing and being formed.
Demetris Christofias did the same, of course, with all young comrades. He inspired confidence in all of them and they felt safe around him. I also experienced him at the Festivals of EDON, especially as a student. I will never forget when, with the few technical means at our disposal back then, under his leadership we moved the entire Festival from one site to another in one night. It may seem crazy, but that's how you steel yourself. What moved us was precisely the inspiration and the belief in the ideals he gave us.
When I started working in the International Relations Department of the C.C. of AKEL in 1989, the first meeting I had was with a comrade from El Salvador. Demetris was a deeply internationalist comrade, with a very strong and practical sense of solidarity with the peoples of the world. One of my greatest experiences is linked to Cuba. Having just been re-elected at the 1990 Congress as General Secretary of the Party's Central Committee, his first trip abroad was to Cuba in November 1990. I accompanied him as a Spanish-speaking translator.
The meeting with Fidel started at midnight and lasted until dawn. Fidel's first concern was to ask him about his health, because Demetri had been going through some health problems. It was as if two friends who had known each other for many years were chatting. Fidel was very knowledgeable about Cyprus and beyond. He expressed to Demetris his concern about what would happen after the dissolution of the Soviet Union which he foresaw and predicting what would happen with Cuba. Fidel had told him that if they went through 1994 without anything negative happening, then imperialism would never dissolve Cuba. They had a discussion about everything in depth, politics, economics, history, etc. I was present at their two other meetings that took place on other occasions and visits. The sensitivity he showed to the problems that people had was also one of his characteristics.
When the meetings between the Greek Cypriot and Turkish Cypriot political parties started, it was striking that all the Turkish Cypriots who participated came and embraced him. The whole world was calling him by his first name, Demetris. I remember one time when we were returning from a meeting, we were passing by Makarios Street and because there was a traffic jam, Demetris said we should get out and walk. While we were passing under a building that was being built, the bricklayers and construction workers started calling him by his first name. He had a very strong sense of humor and liked to tease, always in good humor. He was very expressive, he didn't hide his feelings. He was also easily angered, but in a very short time that anger passed. Above all, he was human.
Christakis Maragos: He took every point of view into account
Comrade Demetris was an exceedingly simple human being, who could be approached by anyone, whether when he was General Secretary of AKEL, or when he was President of the Parliament, or even when he was President of the Republic. When he was elected Speaker of the House of Representatives, I had a problem what to call him. He understood this and made a remark to me, telling me that nothing had changed. So he told me that when we are alone it is Demetris, when he is with people the approach would be somewhat different. How human he was could be seen by the fact that he went alone to do the shopping. Without a guard. And he even stood in line and never accepted to take someone else's place in order to be served first.
There was also no way that he or his family could have lunch or dinner without the members of the security guard team sitting with them. We were either in Nicosia or in Kellaki. He socialised with all the people and did not single anyone out. Many people thought he was stubborn, that he didn't listen to anyone. This is a false image. He listened a lot and took every opinion into account. He might react strongly to a thought or an opinion, but in five minutes he would think about it and take it into account.
The event that affected him profoundly and cost him dearly until his death was the explosion at the Mari naval base. That morning, as soon as he was informed of it, we set out from his house to go to Mari before the guard and security vehicles had even had time to arrive. We met them on the road. When we got there, it was clear what was to follow. There was already there, at the entrance to the camp, a group of women and they were already swearing at him. In a similar incident that happened later, on the street, not only did he not let the police file a complaint, but the girl herself called him later, thanked him and said, "Now I know what kind of person you are". He was falsely accused, slandered and this bitterness accompanied him to the grave. From there onwards, he was constantly deeply thoughtful, reflective and not very talkative.
Elektra Eleftheriadi: Above all he was human
What can I say about my Demetri? About his humanity or his kindness? I got to know him closely for many years, for better or worse. As a politician he had humanity, kindness and love for his fellow human being. I think these are characteristics that others may have, but they do not show them. Demetris was very expressive. I did not experience him as an employer, but as my child. He was also a teaser. Every morning, as soon as he arrived at the Party office, I would bring him a coffee, some nuts and olives. He would tease me by saying "Electra's menu has arrived, girls" or, at other times, "When I'll go to my village Dikomo, I'll take you with me to make me my coffee".
There were many times when, because of his workload, he didn't go home at lunchtime and stayed at the office. And because some of the comrades would always not go home for lunch, also because of the workload, when it was time to eat, he would call the other comrades, telling them that "the food from … Mama is ready" and they would all sit down together at the table to eat. Demetris didn't single anyone out. Even journalists who happened to be waiting at the offices were invited to the table. On the other hand, like any human being, because of the pressure and the volume of work, he could get angry, he could shout.
But that didn't last long. Unfortunately, it left us very quickly. And he was not appreciated by everyone for his contribution, even though the overwhelming majority of people, especially on the left, loved him very much and felt comfortable with him. However, those who knew him and especially those who worked with him will never forget him. His memory lives on.
The