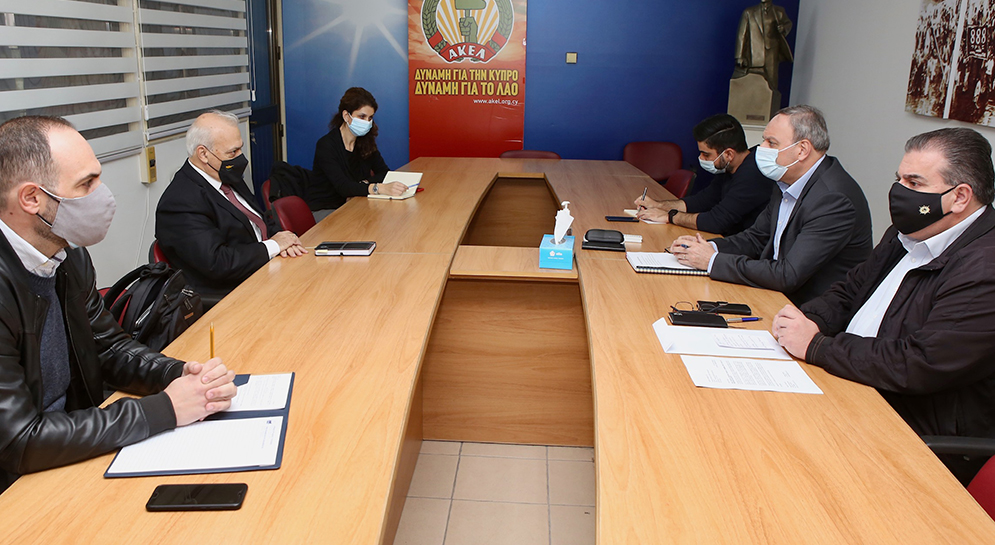 AKEL meeting with the Consumer Protection Service
22 December 2021, AKEL C.C. Press Office, Nicosia
An AKEL delegation, headed by its General Secretary Stefanos Stefanou and MP Kostas Kosta, member of the Parliamentary Energy, Trade, Industry and Tourism Committee, had a meeting today with the Deputy Director of the Consumer Protection Service, Antonis Ioannou, and officials of the service.
During the meeting the AKEL delegation was briefed about the role and work of the Service.  More specifically, the issue arising from abusive clauses was discussed. The Consumer Protection Service has issued seven (7) decisions to date, which demonstrates the serious problem caused by the abusive clauses of banks. The long delay on the part of the Legal Service in bringing cases before the courts was also pointed out.
The draft bill on the supervision of the market pending before the Legal Service was also discussed.
S.Stefanou clarified that with regards issues and bills on consumer protection, the market's proper functioning are important and will receive immediate elaboration and priority, in these difficult times when price hikes are rampant and plaguing society.
The General Secretary of AKEL stressed the need to strengthen the service and assured that there will be cooperation with the Consumer Protection Service, so that citizens are not left unprotected in the face of profiteering and illegal overcharges they may face.