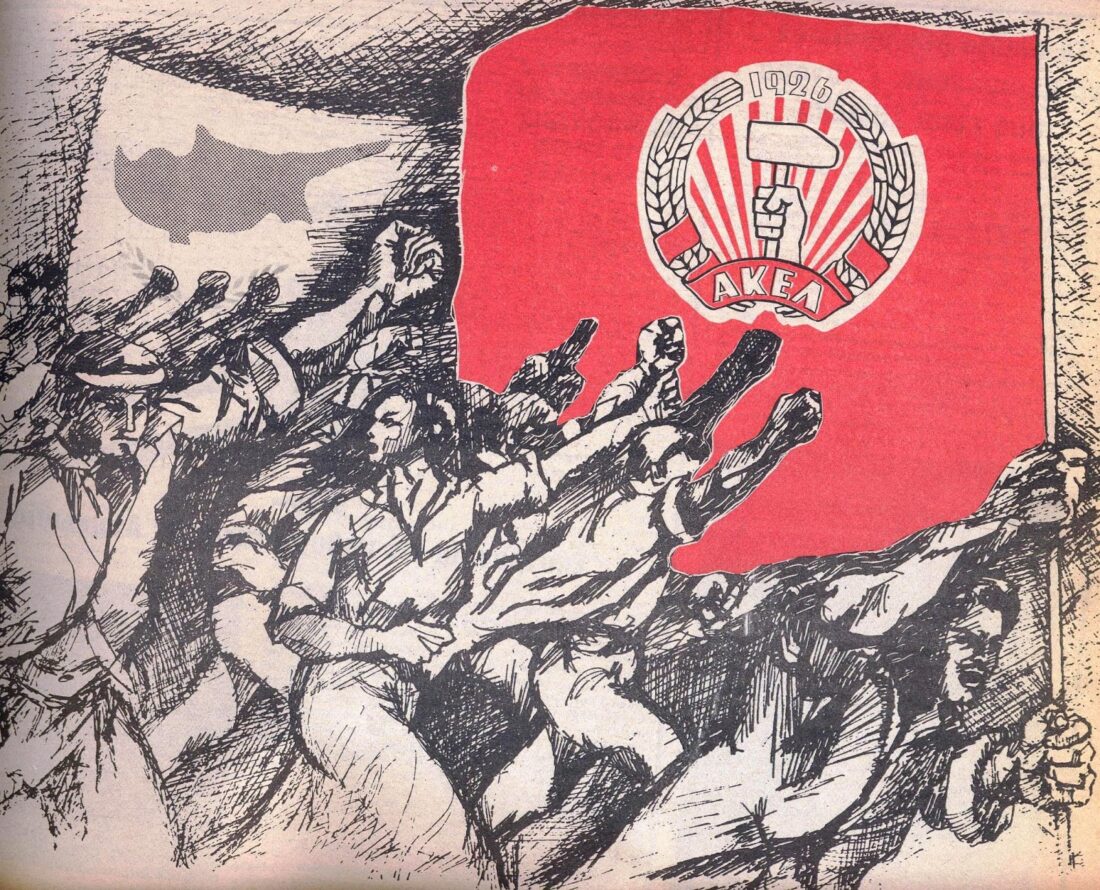 14 December 1955: the British colonialists outlaw AKEL
The banning of AKEL reveals big truths about Cyprus History
14 December 2021, AKEL C.C. Press Office, Nicosia
14 December is a badge of honor in the history of AKEL and the People's Movement of the Left of Cyprus
Following the persecution of the Communist Party of Cyprus in the 1930's, on 14 December 1955, the British colonialists launched a new campaign to exterminate the Cypriot Left. In raids launched all over Cyprus, 135 leading members of AKEL were arrested, including its General Secretary, Ezekias Papaioannou, while at the same time, with a decree issued by the British governor, AKEL, the Union of Cypriot Farmers (EKA), the Pancyprian Organization of Democratic Women (PODG) and the Progressive Youth Organization (AON) were outlawed. At the same time, the newspapers "New Democrat" ("Neos Demokratis"), "Independent" ("Anexartitos"), "Forward" ("Embros") and the Turkish Cypriot newspaper "Inkilapshi" were banned.
The full text of the decree announcing the prohibition of AKEL confirms that for the colonial regime AKEL was considered as a dangerous anti-colonial force, a hated ideological enemy and the major obstacle to the transformation of Cyprus into a NATO base.
The four year period of illegality is one of the most painful tests in the history of the Cypriot Left, given that it had to face the two-fronted attack launched by British colonialism on the one hand, and on the other hand, the extreme right-wing chauvinist campaign of terror launched against the militants and members of AKEL and the trade unionists of the Pancyprian Federation of Labour (PEO) in both communities. Nevertheless, not only did the Left not perish but responded, from the underground, by strengthening the mass popular struggles, strikes and the anti-colonial struggle.
It is also noteworthy that the colonialists kept AKEL outlawed, even after the signing of the Zurich-London Agreements, the return of Makarios and the amnesty for EOKA cadres. Indeed, the leaders of both Greece and Turkey had, together with the Agreements, had drawn up and concluded the secret "Gentlemen's Agreement" with a decision to criminalise communist activity in Cyprus. The legalisation of AKEL was finally imposed by the popular movement itself after a months-long mass mobilisation that escalated with the historic rally organised in June 1959, where tens of thousands of people demanded the end of the prohibition of AKEL.
This page in the history of the Cypriot Left is written with blood, sacrifices and struggles for the people and the homeland. At the same time, it reveals big truths about the history of modern Cyprus, but also the power of the Left to emerge, despite all the trials and difficulties, stronger and more determined.