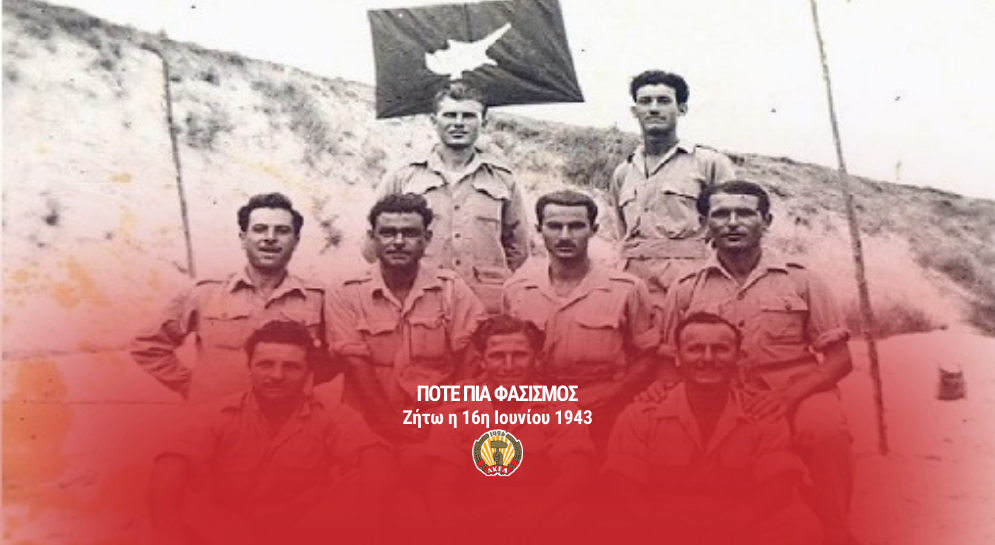 The struggle against fascism is timeless
15th June 2021, AKEL C.C. Press Office, Nicosia
Seventy-eight years have elapsed since the historic decision endorsed by the Central Committee of AKEL on 16th June 1943, which called on its members to enlist as volunteers in the British army to fight Hitler fascism that was massacring the world. Hundreds of AKEL members, including 11 of the 17 members of the then Central Committee, responded positively to the Party's call and consciously fought fascism on numerous battlefields of the Second World War.
The decision of 16th June 1943 did not come as a surprise, but was a conscious internationalist act. Furthermore, it was also an implementation of AKEL's founding position in April 1941, according to which "…AKEL with a clear democratic, anti-fascist and anti-Hitler character is fully in line with the struggle against autocracy and violence." This decision was the culmination of a series of actions taken by AKEL such as the establishment of anti-fascist committees, the initiative by workers to grant one day's wages for the defence of Cyprus, the avoidance of any strikes in defence projects.
The thousands of Cypriot volunteers – Greek Cypriots and Turkish Cypriots – who fought against fascism, many of whom are buried in many cemeteries across Europe, are the strongest proof of our country's contribution to the anti-fascist Victory of the Peoples, which is precisely why their selfless contribution and sacrifice is the subject of our constant tribute and respect.
AKEL's historic call is timeless because it gave a new dimension to the anti-fascist struggle, linking it to the liberation struggle and internationalist solidarity, proclaiming the "…strengthening of the struggle for the liberation of Greece from Hitler's tyranny, the liberation of the enslaved countries under colonial yoke and ensuring the national, political and social future of the Island".
The activity of the militants and members of AKEL among the Cypriot volunteers and their education in the ideals of freedom and social justice led to the development of the struggle for demobilization and the prevention of the British colonialist plans to send them to suppress national liberation movements in various colonies.
These legacies contributed to educating Cypriot youth against colonialism, against the illegal imperialist plans for the dissolution of Cyprus independence, against the terrorism of EOKA B and the resistance against the betrayal committed in 1974.
Today, when fascism is raising its head again, it is the duty of every democratically-minded citizen to look to the example set by the Cypriot anti-fascist veterans and with the same fervor and self-denial to block fascism's path with daily actions and the formation of a broader anti-fascist coalition for the defence of peace, cooperation and for the reunification of our homeland.