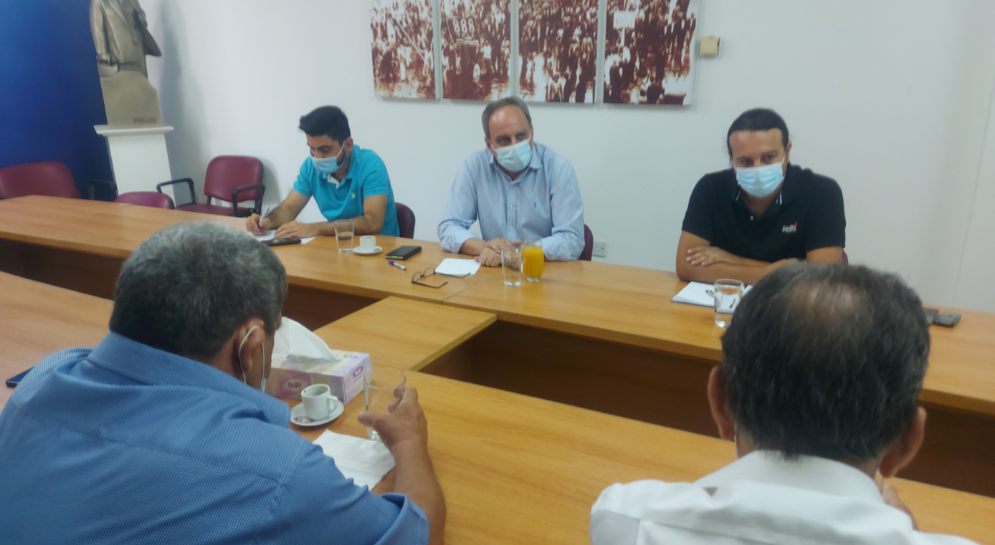 Statements by General Secretary of AKEL Stefanos Stefanou after the meeting with the Pancyprian Association of Democratic Resistance Fighters
16th July 2021, AKEL C.C. Press Office, Nicosia
"I had the honor today to welcome to the offices of the Central Committee of AKEL a big delegation from the Pancyprian Association of Democratic Resistance Fighters, fighters of the resistance not only against the fascist coup of the Greek Junta and EOKA B in 1974, but also people who resisted during the period of the campaign of terror unleashed by EOKA B before the coup, who defended and assisted the lawful state to confront the murderous activities of Grivas' EOKA B. 
We wanted first and foremost to pay tribute to these people who, at the risk of their lives, defended the lawful government and order, democracy and ultimately our country from those who conspired to destroy it as they did with the execution of the coup d'état and invasion. 
At the same time, through them we pay tribute to all those patriotic democrats who defended the state's legality and democracy against the terrorism of EOKA B and the coup. 
At the meeting I had the opportunity to hear many stories about this resistance and it is when you hear them there that you realise both the magnitude of the heroism of these people and the ferocity of the coupists, who did not hesitate to murder resistance fighters in cold blood and even people who had nothing to do with the resistance. 
It is shameful that on such days when we commemorate the heroes of the Resistance, the ruling DISY party, together with the ultra-right party ELAM, commemorates the people who attacked the Presidential Palace on 15th July 1974, bearing in mind what is happening in the occupied territories and in Famagusta with the intensification of Turkey's provocative and illegal actions.
I have therefore told the friends whom I had the pleasure of welcoming on behalf of AKEL to the premises of the Central Committee that AKEL will continue to fight with them defending the historical truth, but also wage the struggle so that the young generation can learn and older people can remember what happened in this country and what led to this tragedy. It is a debt we owe to all those who fought, and particularly to those who sacrificed their lives defending democracy. 
It is an obligation to the young generations who need to know the historical truth in order to orientate themselves correctly in their own lives and, when they take over the running of this country, to be able to lead it along correct paths, not as some have done in the past ultimately leading our country to the precipice.
It is our promise to all these fighters of the resistance that AKEL will continue to sharpen historical memory against forgetfulness and amnesia, which is fueled by the passage of time. 
It is our pledge to these fighters that AKEL will continue to defend and record the historical truth against the distortion being attempted by various circles with the participation of the Right and the government."