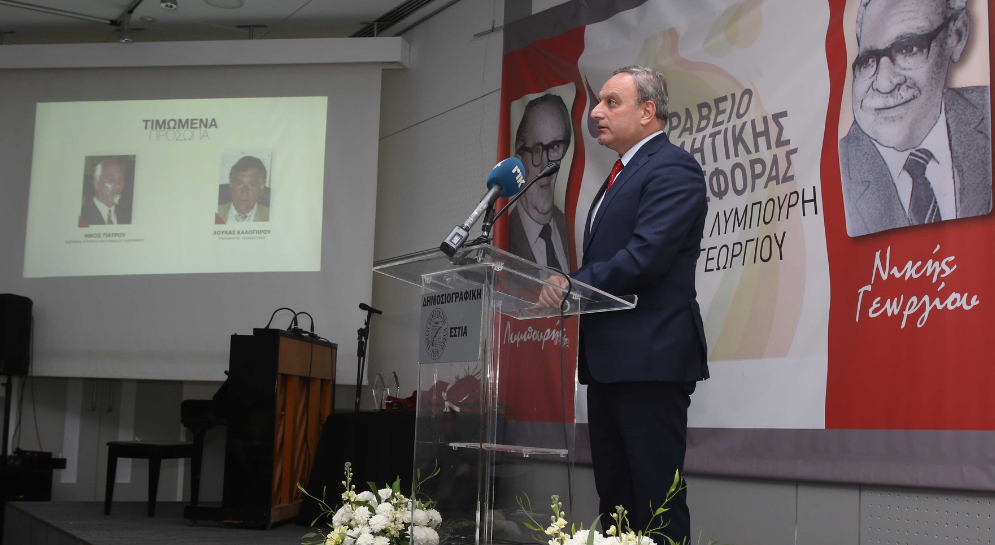 Speech by the General Secretary of AKEL, Stefanos Stefanou at the ceremony of the 2021 "Kostas Lymbouris and Niki Georgiou" Award for Services to Sports of the C.C. of AKEL
 6 December 2021, Journalist's House, Nicosia
On behalf of the Central Committee of AKEL, I welcome you to the presentation of the 2021 "Kostas Lymbouris and Niki Georgiou" Award for Services to Sports of the C.C. of AKEL.  This Award was established a few years ago and has become a custom, gaining prestige among our country's sports community due to the apt choices made by the Committee for the awards.
Tonight's honorees are Loukas Kalogirou and Nikos Yatrou. Two sports figures who have contributed decisively to the development and evolution of two very important aspects of our country's sporting life. Loukas Kalogirou in athletics, and particularly in the decathlon, and Nikos Yatrou in women's football and the development of football in the countryside.
With the establishment of the Award and the annual event we send our messages about sport to the Cypriot sporting world and to society at large. We highlight the importance of sport for society and our country. At the same time we outline our perception and proposals for sport and its role. Especially in the modern era where in the field of sport phenomena, which lead to the devaluation and destruction of the sporting idea, have for some time intruded.
Sport, as a social good, has been undermined by commercialisation and its subjection to a large extent to the logic of profit. Phenomena such as corruption, entanglement/interwoven interests, nepotism, match-fixing and illegal gambling, doping and violence derail sport from its social role and diminish its importance. All this demands a constant struggle to clear up sports.
It is for all these reasons that we believe it is necessary to make serious structural changes in the entire structure of sports in our country.
AKEL, wishing to contribute to the effort to clear up Cypriot sport, the institutionalisation of principles and, above all, their implementation, promotes and underlines the need for a single sports legislation across the entire spectrum of sport.
Sports legislation linked to the upgrading of the executive role of the Cyprus Sports Association should be promoted. It will provide tools for exercising control and stamping out mismanagement in certain sports federations, which, invoking their self-administrative character, do not accept any scrutiny and do not adopt important aspects of the code of good governance. Lack of accountability almost always leads to unaccountability, nepotism and cronyism. The self-administrative status of sports federations implies the implementation of a code of good governance and certainly does not mean arbitrariness and non-transparency.
AKEL has for some time elaborated comprehensive positions/policies on these issues and especially on the issue of the introduction of new sports legislation. We are always ready to assist in the formulation of a comprehensive proposal on the urgent need, which is clearing up sport and rooting out erroneous practices. But these issues are primarily for the executive power and the government to address, which have the powers and authority to take action. Our assessment is that on the issues of reorganisation and transparency in sport, the government has made numerous announcements and proclamations, but unfortunately has done very little, which have proven to be and are inadequate.
We are not levelling everything in sport, nor are we nihilists. In several sports our champions have reached high levels of performance, achieving major international distinctions and honoring our Cyprus. We congratulate all our champions and their coaches, as well as their federations for their successes. We are sure that more will follow.
Cypriot sport has talent that can be developed with proper planning and better use of the funds available from the state. By setting criteria that take into account the needs and financial capabilities of the athletes, so that no one is left behind. More and more substantial investment by the state is required to develop infrastructures and support for our athletes, who have the potential to excel.
For AKEL, sport is not only about coming first, breaking records and attaining glory. We support mass sport and the upgrading of people's relationship with it. In order to achieve this we propose the following:
The strengthening of lifelong sport.
Strengthening social sports organisations.
Developing programmes to support local sports clubs and promote low-cost sports.
More support for academies in amateur sport by the Cyprus Sports Organisation, providing incentives for their development.
A comprehensive plan of sports infrastructures to enhance social and amateur sports.
The problems in sport, and particularly in amateur sports, were exacerbated because of the pandemic period. The struggle to keep clubs and associations alive became even more difficult. Especially in the period of the coronavirus, stronger financial assistance from the state to provide support towards amateur and social sports to keep them alive is imperative.
Dear friends,
In the long course of our People's Movement of the Left, sport has always had a prominent place. Our intervention in sporting events has been multifaceted and continuous. Our contribution to the development of our country's sporting life has been historic, with the foundation and activity of dozens of sports-educational clubs. Since their foundation, these local clubs have represented a powerful sporting and cultural arena of activity, providing the opportunity for creative and healthy involvement in sport and culture to thousands of people, especially young people.
Drawing on our experience from this activity, the Central Committee of AKEL established the Award for Services to Sports to pay tribute to our respected and unforgettable comrades. Kostas Lymbouris and Niki Georgiou.  Two hard-working and tireless workers of Cypriot sport who, with their tremendous contribution, left a great legacy to sport and society.
Tonight's honorees are two figures with many years of uninterrupted contribution to sport.
Loukas Kalogerou, was an authentic athletic talent. He was a multiple champion in both classical and team sports. A leading player and pioneering decathlete for a decade. Player and coach of basketball, volleyball and handball teams. Footballer for 'Olympiacos' Nicosia with whom he played in the Panhellenic Championship, when the decision was taken to have the given Cyprus football champion play in the Greek football League. We can say with certainty that Loukas Kalogirou dedicated his whole life to sport and to the youth of the country, as an educator.
The second honoree is Nikos Yatrou, who is the personification of voluntary service. A life dedicated to sport. A true pioneer and pioneer, who contributed, and still contributes, to the development of women's football and football in the countryside. He has been actively involved with the "Lefkothea" Latsia women's football club since its foundation in 1983. The club from 1998 until today has been continuously participating in the women's championship of the Cyprus Football Federation. Through his 60 years of contribution to sport, Nikos Yatrou sets an example of voluntary contribution and even in fields that are not so popular, where a lot of effort is needed and usually recognition is meagre.
In conclusion, I would like to thank the Award Committee for its work and congratulate it on its choices. The bar is already set very high with the selections it makes every year and I hope we can keep it there. I congratulate you both as a Committee and each of you individually. The President, Pambos Stylianou and the members Petros Hadjichristodoulou, Emilios Ioannou, Lakis Polycarpou, Dora Kyriakou, Spyroula Mesaritou, Antonis Konstantinou, Michalis Sotiriou and Stelios Stylianou. I also congratulate the Sports Bureau of the Central Committee of AKEL for organising tonight's event and for its activity IN GENERAL.
Finally, I thank all of you FOR attending our event tonight.