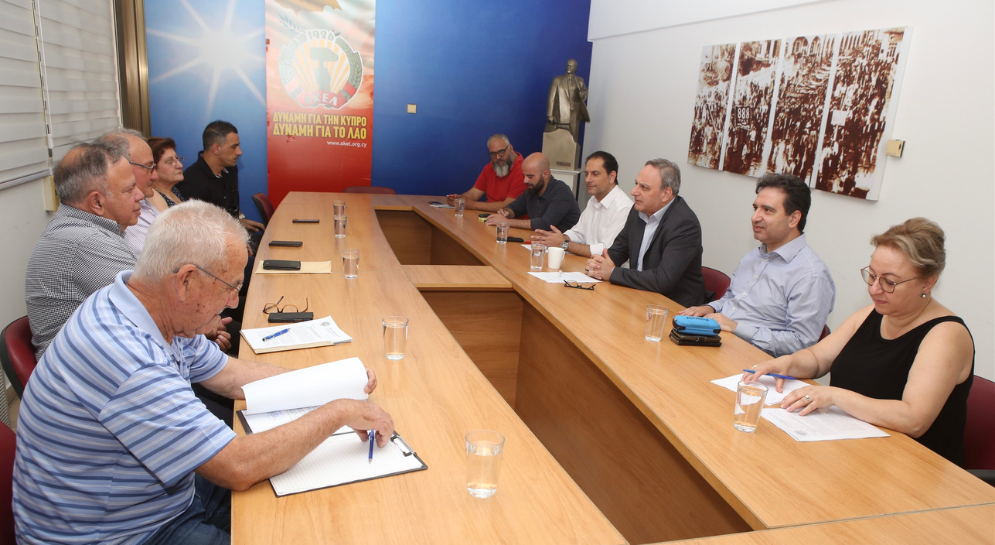 AKEL meets the Initiative Group of the Akaki district residents
3 June 2022, AKEL C.C. Press Office, Nicosia
A meeting took place today between the General Secretary of the C.C. of AKEL, Stefanos Stefanou, and members of the Local Community Councils of Akaki and Avlonas, as well as members of the Initiative Group of residents of the area against the installation of barbed wire.
The members of the Initiative Group expressed their concerns about the numerous problems the residents of the area face as a result of the installation of barbed wire in the buffer zone of the community. Problems related to the cultivation of land, the operation of livestock farms and industries, as well as security issues for residents stemming from the installation of barbed wire and the intention to install gates too. The problems created in relation to housing as young couples are reluctant to proceed with building a house in the fenced off area were also discussed.
The General Secretary of AKEL expressed AKEL's solidarity and support for the just demands of the residents of the affected local communities. S.Stefanou reiterated AKEL's practical support and noted the need for the debate on the issue to proceed in the relevant Parliamentary Committee.
The AKEL delegation included AKEL Political Bureau member and Chairman of the Parliamentary Internal Affairs Committee Aristos Damianou, AKEL Nicosia-Kyreneia District Secretary and MP Christos Christofides, Thomas Thoma District Secretary of the Union of Cypriot Farmers (EKA), the member of the District Committee of AKEL Nicosia-Kyreneia Lazaros Nicolaou and AKEL Parliamentary Assistant Chrystalla Karolou.