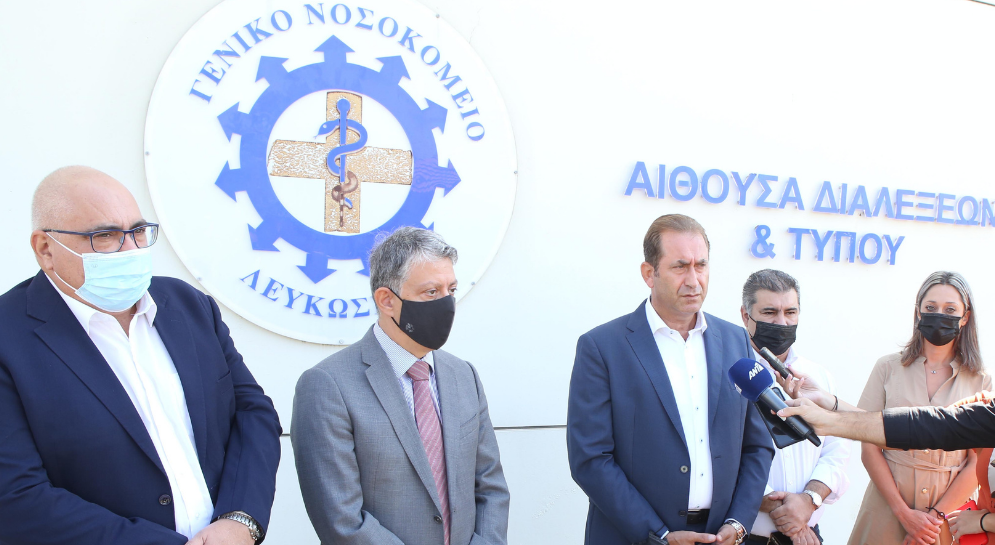 AKEL delegation, headed by AKEL Parliamentary Representative Giorgos Loukaides, visits Nicosia General Hospital, Athalassa Hospital and Makarios Hospital
A strategic plan with a roadmap with specific measures but also timetables for their implementation is needed for the upgrading and modernisation of the public health sector
8 September 2021, AKEL C.C. Press Office, Nicosia
The statements by the AKEL Parliamentary Representative Giorgos Loukaides, following the AKEL delegation's visit to Nicosia General Hospital:
"I would like to thank the Board of the state health services (OKYPY), but also the Board of the Nicosia General Hospital, for their hospitality. It is through its practical actions that AKEL demonstrates its interest in the public health sector and public hospitals is both continuous and sincere.
We are here as part of our constant efforts to assist, as much as we possibly can, towards fulfilling the objective of substantially upgrading and modernising the public health system, who contribution has been demonstrated and reaffirmed in the most significant way, through the role played by the public health sector in confronting the pandemic.
For AKEL, however, the role of the public health system is also crucial and decisive for the implementation of the National Health Scheme. The stronger the public health sector becomes, the smoother the implementation of the NHS will be and the more will citizens enjoy the benefits in health care.
For that reason, in our meeting we discussed the serious challenges and problems the public health system continues to face that have to do with staffing, infrastructure, equipment, consumables and issues related to its correct organization and operation.
We want to see even more progress recorded, because these challenges are serious. We have reiterated what the Parliamentary Committee on Health Affairs unanimously has adopted, following a proposal submitted by AKEL, namely the need for a strategic plan to be elaborated and promoted that should include a roadmap with specific measures and actions, but also with fixed timetables regarding the implementation of these measures that aim to achieve the objective of upgrading and modernising the public health sector. AKEL believes that this is a top priority so that many objectives that are set should not remain on paper or delayed and with very slow progress. We will continue to monitor developments towards this end so that together we can collectively fulfill the objective of upgrading and modernising the public health sector.
I conclude noting perhaps the most important at this juncture, when the whole of society is waging the battle against the pandemic, by expressing our gratitude once again, warmly and sincerely, to all the staff and workers who are waging the battle on the front line and in difficult conditions, so that we can confront the impact of the Covid-19 pandemic."