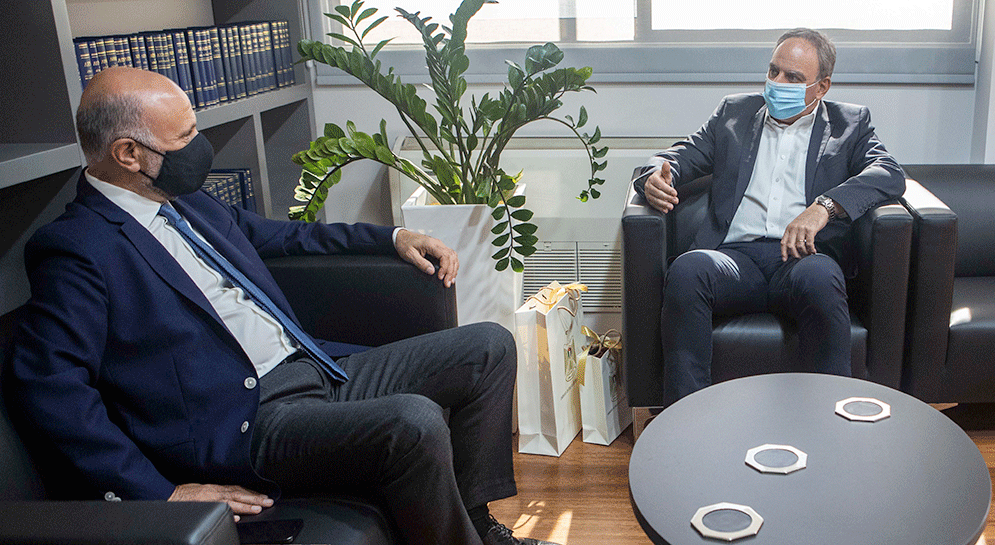 The General Secretary of the Central Committee of AKEL met with the Ambassador of Palestine and reaffirmed AKEL's solidarity with the Palestinian people
15 October 2021, AKEL C.C. Press Office, Nicosia
The General Secretary of the Central Committee of AKEL Stefanos Stefanou had a meeting today with the Ambassador of Palestine Abdallah Attari, during which an exchange of views took place on the situation in the Middle East and the region of Eastern Mediterranean.
The Palestinian Ambassador to Cyprus briefed the General Secretary of AKEL on the tragic consequences the continued deepening of the Israeli occupation and expansion of the ongoing colonisation has both on the lives of the Palestinians and the possibility of a solution to the problem.
The General Secretary of the Central Committee of AKEL reaffirmed the solidarity of AKEL with the struggle of the Palestinian people and the Party's steadfast position for an end to the Israeli occupation, the termination of the colonisation of the Palestinian territories and for the release of the Palestinian political prisoners.
The General Secretary of AKEL stressed that just as we demand for Cyprus, we also demand for Palestine too the respect for international law and the implementation of the relevant Resolutions of the UN. Finally, S.Stefanou stressed that the international community must recognize an independent Palestinian state on the borders of June 4, 1967, with East Jerusalem as its capital.