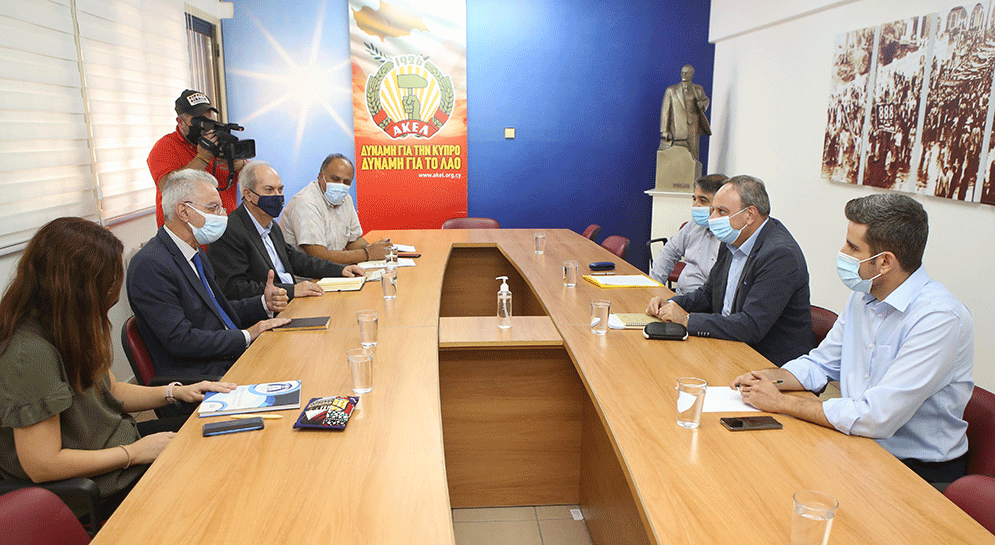 Meeting between the General Secretary of the Central Committee of AKEL and the Minister of Education on the Deputy Ministry of Culture
13 October 2021, AKEL C.C. Press Office, Nicosia
A delegation of the AKEL headed by the General Secretary of the Central Committee of AKEL Stefanos Stefanou met today with the Minister of Education Prodromos Prodromou to discuss the bill for the establishment of a Deputy Ministry of Culture.
Stefanos Stefanou reiterated once again that AKEL's position is in favour of the establishment of a Deputy Ministry of Culture, provided that it meets certain conditions. Namely, that it will have a specific structure, the necessary funds as a key element for upgrading cultural activities, taking into account the positions and sensitivities of the bodies/organisations and people of culture and making use of the experience gained over the years in the field of culture.
With AKEL's constructive stance given during the debate of the Bill in Parliament, the General Secretary of AKEL also expressed concern about the inclusion of the Department of Antiquities in the Deputy Ministry. As it is known, according to the Constitution of the Republic of Cyprus, the management of Antiquities belongs to the state and is not shared between the Greek Cypriot and Turkish Cypriot communities. With the Cyprus problem unresolved, any unilateral actions that would change the administrative competence of the Antiquities would potentially give the pseudo-state in the occupied areas an alibi to proceed with new secessionist actions, this time against Antiquities in the occupied territories.
On AKEL's part, the meeting was also attended by AKEL MP's and members of the Parliamentary Education Affairs Committee, Christos Christofides, Christos Christofias, and the Head of the Cultural Affairs Bureau of the C.C. of AKEL Kostas Kosta.