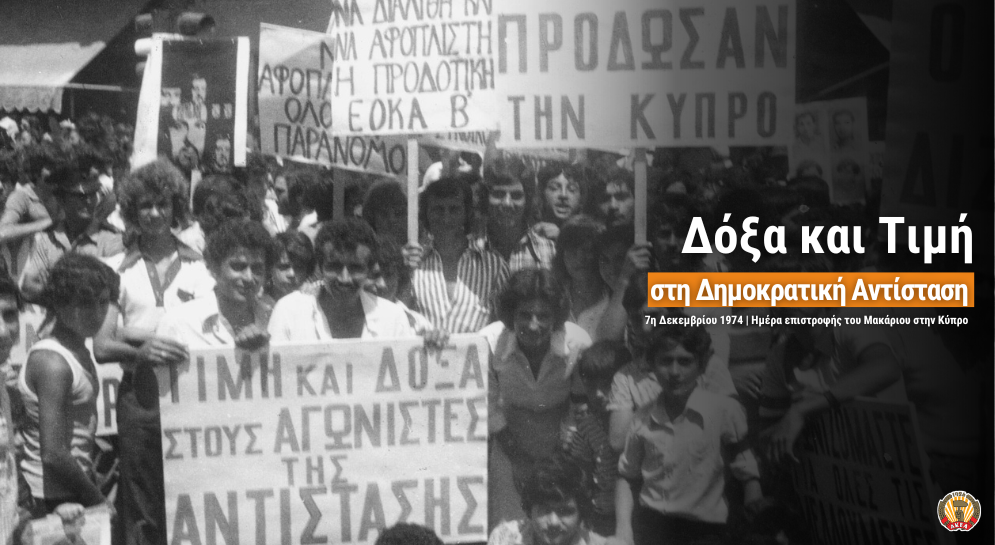 Glory and Honor to the Democratic Resistance
We will not retreat before the tank tracks of historical falsification
7 December 2022, AKEL C.C. Press Office, Nicosia
The 7th December has been designated as a day of remembrance and paying tribute to the Democratic Resistance against the Greek junta and EOKA B fascism. We honor the children of our people who fought in the armed resistance against the coup d'état, at the Presidential Palace, the Archbishopric, the working class neighborhood of Kaimakli, the Eftapatos region and Third Gymnasium of Limassol, Kolossi, the city of Paphos, the popular neighborhood of Agios Ioannis in Larnaca and the other bastions of anti-fascist Resistance. We honor those who took on the EOKA B terror in interrogations, tortures and organised popular demonstrations.
We pay tribute to our heroic people who, even during the time when they were burying the dead of the invasion and living in makeshift tents as refugees, were demonstrating for the return of Makarios to the Presidency and asserting that they would neither compromise with the NATO crime, nor condone the treason that was committed.
The obsession of the Right and the extreme right to honor the leader of EOKA B and denigrate the Democratic Resistance – but also to exonerate and pardon NATO's responsibility for the Cypriot tragedy – is the reason why this page of our country's past often returns to the public debate. The latest case is the decision by the government of the ruling DISY party, with far-right ELAM on its side, to create, in 2022, a Grivas Museum (i.e. to buy with taxpayers' money the house belonging to Azinas and turn it into a "Digenis Museum").
This action is the gravest and vulgar insult to the dead of the Cypriot tragedy, to the people and the history of Cyprus. On the same day that the bones of the 4 heroic resistance martyrs of Agios Tychonas who were murdered in 1974 by EOKA B are being buried, DISY and ELAM want to create museums and pay tribute to the leader of the fascist EOKA B organisation. The recent, historic Resolution on the Democratic Resistance approved by Parliament is a self-evident democratic response to this provocation.
AKEL will not back down in the face of the tank tracks of the falsification of history and the calls of the far-right. We will call them by their name, the heroes as heroes and the traitors as the traitors. We will tell the truth about the history of the country, the reasons and the causes of our people's tragedy because the 7th December is not only about the historical past. It also concerns at the same time the present and the future we want for our country.
The memory and honor of the Democratic Resistance is an integral part of the struggle we are waging to prevent the crime committed in 1974 from being definitively executed, so that the Resistance is vindicated with the liberation and reunification of our country.