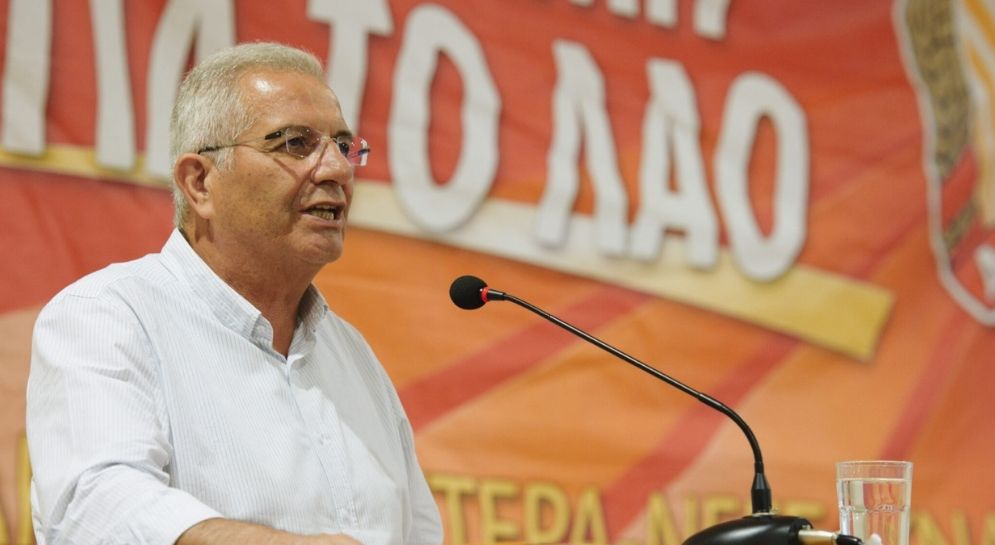 AKEL General Secretary to the President of the Republic: No political basis exists for AKEL to participate in a Government of broad cooperation
14th June 2021, Cyprus News Agency (CAN)
No political basis exists for AKEL to participate in a Government of broad cooperation, the General Secretary of AKEL Andros Kyprianou clarified to the President of the Republic Nikos Anastasiades after the meeting they had on Monday morning at the Presidential Palace.
Kyprianou stated that President Anastasiades' proposal for the possibility of cooperation in a Government of broad acceptance was discussed.
"I made it clear that for this to be possible, there needs to be a political basis, the political foundation upon which this cooperation must be based on. It is obvious that as far as we are concerned, we do not share political positions/polices that are related or even adjacent to "positions supported by the ruling DISY party on numerous issues", he said.
The General Secretary of AKEL added in relation to the issues of reforms and the Fund for Recovery and Resilience were discussed and he clarified that AKEL highlighted as its most principal priority how the interests of the many are better served. Furthermore, he added that AKEL told the President that if proposals for reforms are tabled serve citizens, AKEL will support them and it won't hesitate to do so if they come from the Government of DISY.
At the same time, A.Kyprianou clarified that if the Government really wants to act in a consensual way, the competent Ministers must listen to all views, take them into account in formulating their proposals in order to achieve the greatest possible consensus. He said that this is what AKEL will seek to do, both inside and outside Parliament.
With regards the Recovery and Resilience Fund, A.Kyprianou stated that he told the President of the Republic that AKEL participated in all the relevant meetings that took place sounding the Fund submitting specific proposals, which, however, as he pointed out, have not been accepted. He added that AKEL doesn't even know which proposals have been su7bmitted to the EU and that it is ready to study the proposals in a constructive spirit and present its opinion on how these actions could be taken to serve citizens.
"Consequently, we are ready to listen, to propose, to suggest and work constructively, always with a focus on how we can make the life of the common people better," he said.
Asked about a possible Ministerial appointment of the former Speaker of Parliament Adamos Adamou, A. Kyprianou stated that since AKEL isn't discussing participation in a Government of broad acceptance, President Anastasiades made no reference to any name. He added that A. Adamou had cooperated for many years with AKEL and had a very good cooperation, beyond that if he considers that after so many years of cooperation with AKEL he can switch with ease to the DISY Government, the people will judge him.
Asked whether he had told the President whether he would be annoyed in the event the President were to sound out specific individuals from the left to join a government of broad acceptance, A. Kyprianou replied that AKEL would not participate in a Government of broad acceptance. He added that he had clarified to the President that he would be annoyed in case the President would address these individuals.
"From there onwards, the decisions belong to the President of the Republic and I repeat every one, depending on what he/she decides, will be judged by the people, as the people judges us all," he said.
Asked if there are issues on the reform agenda that AKEL completely disagrees with, the General Secretary of AKEL said that everything can be addressed so long as there is a willingness on the part of the Government to work consensually. He added that consensus means that you consult, hear different views and try where there is room to take them into account by including them in the final proposals that are submitted to Parliament. If the government, A.Kyprianou added, considers that consensus means that the government submits its own proposals and we have to vote for them, then this isn't going to work. AKEL's stance will be determined by how the Government will operate.
Asked if he feels he was deceived by what preceded the election of the Speaker of Parliament, he said that this issue belongs to the past, that we should ahead and that he doesn't feel deceived at all.