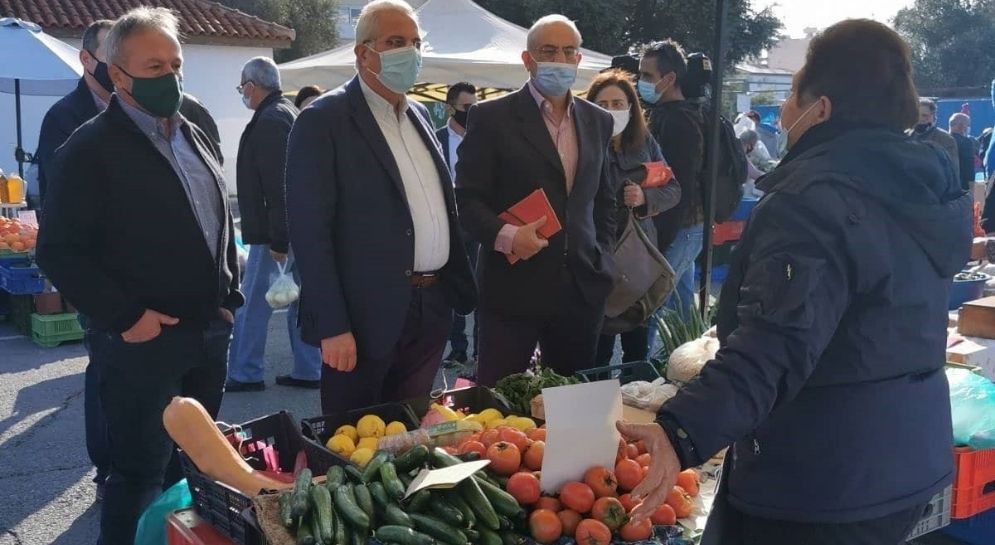 AKEL had warned since 2017 about the dangers from an impasse on the Cyprus problem
Statements by the General Secretary of AKEL A.Kyprianou after his visit to the People's Bazaar, Limassol Municipality
AKEL C.C. Press Office, 3rd April 2021, Nicosia
"Our Party's visit here today aims to support Cypriot producers and to convey the message that popular markets in Municipalities should host producers and not any traders. Furthermore, although during the pandemic's first phase producers were supported with some measures, as things subsequently developed they were not supported. We believe that the pandemic's impact on producers has been immense, in the sense that many of the products they produce are products that were used in hotels and restaurants that have remained closed for a long time. The government therefore needs to support them just like other sectors.
On the Cyprus problem, we observe that Turkey continues its provocations even though the European Union has expressed its position.
AKEL had warned since 2017 that if we allow time to pass by without utilizing it and the Cyprus problem enters into a prolonged impasse, the only thing that would be achieved would be to give Turkey the possibility of becoming more aggressive, provocative and intransigent, to put forth its unacceptable demands on the negotiating table and make the whole effort to resume substantive negotiations with a view to reaching an agreement incredibly difficult. Unfortunately that's precisely what we see happening today. The President of the Republic must realise that with conventional approaches, approaches of the past, you can't address today's situation.
AKEL has submitted a proposal on the Cyprus problem, saying that without deviating from the principles of the solution, he should formulate such tactics that will make it difficult for Turkey and force it to either return to the agreed framework of the solution or remain exposed in the eyes of the international community.
Our appeal to the President of the Republic is to reflect on what AKEL says to him and at the same time, of course, the appeal we address to the international community is that it should stand firm towards Turkey and send clear messages to it and not simply appease it."
So the President isn't positive to your proposal?
"We submitted our proposal on 8th December. He told us that he would invite us to discuss it. 4 months have gone by and he still hasn't invited us."